Our Thursday poetry news round-up brings you an article about the finalists for the CBC Poetry Prize, and also a rather unusual story about poetry that has been sent into space as part of the NASA space program.
CBC Poetry Prize Finalists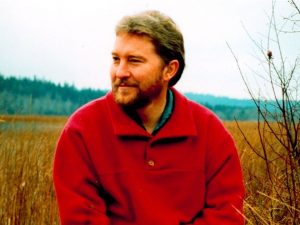 The finalists for this year's CBC Poetry Prize were announced yesterday by CBC Books and their partners in the prestigious competition. The five finalists; Cornelia Hoogland, Alessandra Naccarato, Harold Rhenisch, Laboni Islam and Sarah Kabamba include three B.C poets.
Hoogland, who was a CBC Nonfiction prize runner up in 2012 with "Sea Level" has been nominated for "Tourists Stroll a Victoria Waterway" which tells the story of Reena Virk, a Victoria murder victim.
Naccarato who was a finalist in 2014 and has also been a recipient of the


This is awarded by the Writers' Trust of Canada has been nominated for his work "Postcards for my Sister".
The third B.C nominee Harold Rhenisch is an editor, fruit tree pruner and poet and has been nominated for "Saying the Names Shanty", which is a poem that has been modelled on "Say the Names" a poem by Al Purdy and a song by Stan Rogers.
The winners will be announced on 22nd November.
Poetry in Space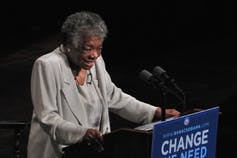 Over the years man has sent many things into space in the quest for knowledge; space stations, telescopes, Tardigrades and of course astronauts. One thing you might not be aware of is that there is a hefty amount of poetry that has also been sent into space.
In 2013 a staggering total of 1,100 haikus were sent into space on NASA's MAVEN (that's the Mars Atmosphere and Volatile Evolution). These were the lucky winning poems that were selected by the public as a result of a worldwide Haiku writing competition.
This was followed in 2014 by "A Brave and Startling Truth" a poem by Maya Angelou that NASA sent into space as part of the orbital test flight of Orion. The poem had been written in 1995 to commemorate the 50th anniversary of the UN.
However, both of these poems were predated by "For A Space Prober" a poem by Thomas Bergin that went into space on November 15th, 1961 etched on the instrumentation panel of the Transit Research and Attitude Control satellite. The poem holds the honorary title as the first piece of literary work to have been sent into space. It is currently orbiting the earth at an altitude of 600 miles. The message in the poem is addressed to the gods and it is predicted that it is likely to remain in space for around 800 years.
Yet it is not this poem that Bergin is best known for, his 1955 English translation of The Divine Comedy by Dante that is his most well-known piece of work.
It's been a few years now since NASA sent any poetry into space, the big question is what will they send next. What sort of poetry would you send into space?