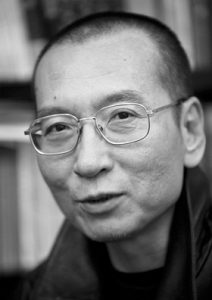 News has reached My Poetic Side of the passing of poet Liu Xiaobo. Born on 28th December 1955 in Changchun, Jilin, Liu Xiaobo was a Chinese writer, literary critic, and poet. He is possibly best known for his role as a human rights activist, the role that he played in calling for political reforms in China and his involvement in campaigns to end Communist single party rule.
Born into a family of intellectuals, his father was a professor, Liu finished school in 1974 and was sent to work on a farm. It wasn't until 1977 that he took the first steps on the path to a literary career when he attended Jilin University to study in the Department of Chinese literature. It was whilst at university that he created a poetry group; "The Innocent Hearts" (Chi Zi Xin) with a group of 6 friends. He graduated with a BA in literature before becoming a research student and finally a lecturer.
Imprisonment
Famed for his Ghandi like approach to no enemies, Liu who had been lecturing in America returned to China during the Tiananmen Square massacre of 1989. He played a major part in the uprising, including the initiation of a hunger strike on 2nd June, on 4th June he and a number of his colleagues were instrumental in negotiating the safe passage of hundreds of students from the square, saving their lives. He was arrested the following day, and placed in a high security prison where he was to serve his first prison term.
This was followed by a 6-month jail sentence in 1995 for his involvement in the human rights movement and 3 years in a labor education camp for disturbing the social order in 1996. It was during this period of imprisonment that he married his second wife Liu Xia.
In December 2009, he was sentenced to 11 years imprisonment, with 2 years deprived of all political rights having been charged with spreading a message advocating the subversion of the country and authority. Many international governments called for his unconditional release. In 2013 his wife was put under house arrest but never charged with any crimes.
Works
In addition to the many articles and political commentaries written by Liu, many of which were published in Taiwan and Hong Kong rather than China, Liu also published a Selection of Poems, the book contained a collection of 450 pages of poems in the form of correspondence between Liu and his wife, who was also a poet in her own right. The correspondence had been sent between the two during Liu's term of imprisonment.
In 2010, despite much opposition from the Chinese government, he was awarded the Nobel Peace Prize



In 2012 he published a book of poetry which contained a tribute to his wife entitled Your Lifelong Prisoner.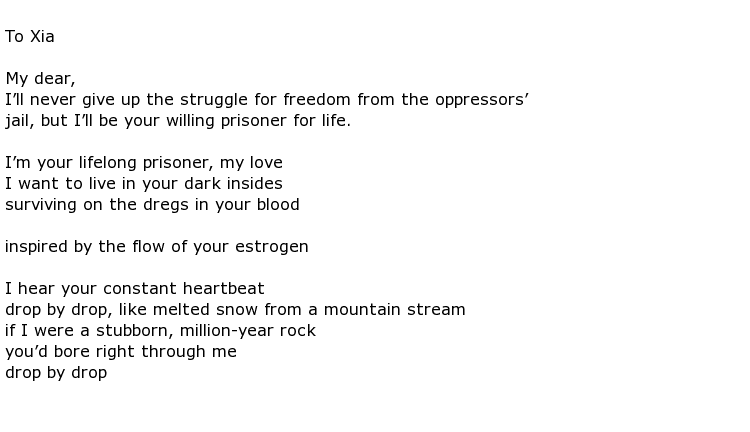 Liu was granted medical parole on 26th June 2017 and moved to hospital following a diagnosis of terminal liver cancer. He died 13th July 2017.
He leaves behind a son, Liu Tao (from his first marriage) and his wife Liu Xia.