We bring the week of news roundups to a close with another shocking revelation of an accusation of plagiarism in the literary world, this time the work in question is "Poetry Will Save Your Life" by Jill Bialosky.
Another Poet Accused of Plagiarism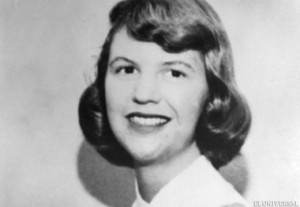 The poetry world has once again been shocked by accusations of plagiarism levelled against one of its own.
Jill Bialosky, who is a prolific poet, essayist and currently works as an editor of WW. Norton & Co is being accused of having plagiarised some paragraphs within the content of a recently published memoir from a variety of sources.
The memoire in question



from Simon and Schuster was published in August and have come to light after critic and fellow poet William Logan discovered a number of striking similarities. The memoires contain a number of brief biographies, the paragraphs that Bialosky is accused of having plagiarised are those that relate to Sylvia Plath,Robert Louis Stevenson and Louise Glück, . The original work in question features on the websites of the



as well as Wikipedia. The passage of Plath's



it is alleged is plagiarised from



a book by Helen Vendler.
Plagiarism is a serious accusation in the literary world and one that Logan was anxious not to throw into the public eye until he felt certain of his concerns. He noticed the similarities whilst completing a review of Bialosky's book and decided to look further into what he believed he had uncovered. The similarity in the language used and the information presented led him to check all the biographies in the book.
Published in August the book includes 51 poems which Bialosky chose as she felt they were the best representation of some of the key times in her life – in particular the death of her father.
Bialosky has issued a statement following the accusations in which she claims that Logan has been selective in extracting just a few key phrases from what is a 222-page book, that it inadvertently contained fragments of previously published common source biographies, and that this is the work of many years. She also added that if any errors that are found in the book she will be more than happy to correct them in subsequent editions.
Simon & Schuster, the parent company of the book's publishers have responded the allegations stating that Ms Bialosky is a editor and author who is held in high regard by others in the industry and they stand by the book, however they will be happy to work with Bialosky to make any necessary amendments in the future.
Plagiarism, and accusations regarding it, are not uncommon in the literary world. We recently wrote about the accusations that are surrounding the late Canadian Poet Laureate, Pierre Des Ruisseaux.



was one of the books included on this year's Forward 2017 book guide.