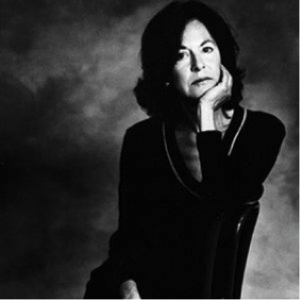 Louise Gluck is a contemporary American poet born April 22nd 1943 in New York City to a Hungarian immigrant father, Daniel, an inventor.  She was brought up in Long Island and currently resides in Cambridge, Massachusetts.  Her interest in writing poetry surfaced during her teens when, encouraged by her parents she would submit poems to magazines.  In the mid 1960s she studied at Sarah Lawrence College then at Columbia University but did not graduate.   Afterwards she took night classes with poet Stanley Kunitz who she acknowledges as a great influence on her writing.
Gluck's first published book, Firstborn, was a critically well-received collection of poems in 1968.  This led to offers of teaching posts in colleges but she rejected these in order to concentrate on her writing.  However, a bout of writer's block caused her to consider giving up writing altogether but after attending a writer's seminar in Vermont and, encouraged by people she met there, she decided to look for teaching work.  This so inspired and invigorated her she took up her pen to begin writing poetry again.  More teaching jobs followed in various colleges and universities.
Her work has been described as 'precise, sensitive, gripping'.  She writes about subjects which concern all people: love, family, relationships, life and death.  She likes to take the reader on a journey with her into the imagination, taking part in the experience of the poetic story.  She has the ability to capture and hold the reader's attention through her talent for creating readable, easily understandable poems which people can relate to in their own lives.  However, her work is often referred to as dark or bleak dealing as it does with themes like disappointment, isolation and loss, which she depicts so effectively albeit disturbingly.  In her books she makes use of figures from mythology or the Bible and historical figures such as Joan of Arc and this characterises her work all through her career.
Gluck has published, up to date, twelve books of poetry and, in 1994 a collection of essays: Proofs and Theories: Essays on Poetry, which won her the PEN Martha Allbrand Award for First Nonfiction.  She has been showered with many honours and awards for her work.  In 1985 she won the National Book Critics Award for Poetry for The Triumph of Achilles, and the prestigious Pulitzer Prize for poetry in 1993, for her work The Wild Iris, the opening lines of which are:


Although her career has had periods of inactivity she has times of intense productivity and continues to produce work which earns awards and plaudits.  In 2000 she received the Bollingen Prize for poetry and in the same year began a three year term as poetry consultant with the Library of Congress.   In 2003 she was appointed as Poet Laureate by the Library of Congress and in August of that year was named as Judge for the Yale Series of Younger Poets.  The year 2008 brought her the Wallace Stevens award for mastery in the art of poetry and her most recent production, Poems 1962 – 2012, was given the Los Angeles Times Book Prize.  She continues to teach at Yale University, where she is the Rosenkrantz Writer in Residence and is in great demand as a public speaker.