Today in our poetry news round-up we take a look at the poetry scene in South Korea.
Poetry Hides in Plain Sight on the Streets of South Korea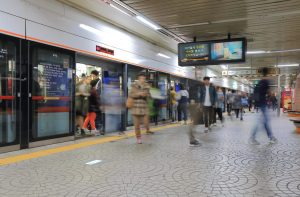 If you know where to look in South Korea you can find poetry everywhere; on the subway (where it decorates the safety door of some metro stations), the streets, in restaurants and even on mountain trails.
Over the course of the last 30 years, Kim Seung-Yeul, who prefers to go by his pen name Moo-Dae (which means nothing big) has been leaving his mark all over the place. Moo-Dae is 76 and claims the reason for his pen name is simply that he has, in fact, nothing to show off about.
Over the 30 year period, he has been posting poetry in public spaces all over Seoul. Each poem has a red stamp and a label that says "A Collection Shared by Pure-Hearted Amateur Poets". The work may appear as though it is something of a collaborative organised by the city or some form of an art project but it is all the work of one man and is dedicated to those people he wants to commemorate.
Moo-Dae wants to share his poetry with everyone, which is why he posts it in public places. He has never actually had any of his poetry published formally, as he doesn't feel that his ability is worthy of such merits. He is happy if just one other person is able to read his work.
Over the last couple of decades, South Korea has faced rapid modernisation. However, this appearance of poetry all over the place, and it isn't just the work of Moo-Dae, is something that has remained. Speaking for the Arts & Culture bureau of the Seoul Metropolitan Government, Ham Young-Woo said that Koreans are incredibly busy people. He is currently in charge of a team that helps to display the work of professionals and amateurs alike all over the city. They want to encourage everyday people to incorporate poetry into their daily lives.
Poetry has always been a large part of Korean culture. The Korean nobility – Yangban – wrote poetry, it formed part of the government examinations and was also used to offer coded commentary of their own political and social views. Poets also used their pens during the 20th-century occupation of Korea by the Japanese in order to pass criticism of the Japanese Imperialism and also to keep their Korean identity, as their culture and language was in danger of being wiped out.
The glass safety doors of the Seoul metro were put in between 2002 and 2009 in order to protect passengers, and they quickly became covered in adverts. A literary critic then suggested that they would be a great place to put poetry instead. At the time poetry was seen as something the government were trying to emphasise for civils servants and so he suggested it would be good for the development of their literary sensibilities.
There is an annual online government competition that amateur poets can submit work to and the best poems are selected for display on the glass doors. This year a staggering 3000 entries were received.