Today on My Poetic Side we bring you Dante Day and a Russian, Korean Cultural exchange programme.
Dante Day
Today Italy will be celebrating Dante Day, for the second time under the cloud of lockdown due to the coronavirus pandemic. This year it is the 700th anniversary of the death of the poet Dante Alighieri who was the author of the Divine Comedy.
Referred to as the "Supreme Poet" there will be high profile events taking place all across Italy to celebrate the life of the poet. The highlight will be a reading of Canto XXV of the Paradiso which will be televised. The reading will be undertaken by Roberto Benigni, a director, comic actor and Dante enthusiast.
The canto is the one in which Beatrice, Dante's muse, vouches for the poet progression of hope for redemption.
Dante Day was chosen to fall on 25th March by scholars, who believe it is the date that the poet descended into hell, as described in the first part of his epic journey detailed in the Divine Comedies which sees him travel through Inferno, Purgatorio and Paradiso.
Following the televised reading, Benigni will also be a recitation on Rai3, this time from Canto V, the iconic episode between Francesca and Paolo. This particular canto has been responsible for inspiring a number of other artists including Dante Gabriele Rossetti and Rodin and has also been the source of a number of musical interpretations.
Bringing Russian Culture to Korea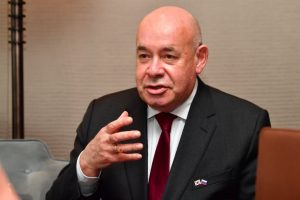 Mikhail Shvydkoy, a Russian cultural expert, is looking to ensure a further exchange of cultures between Russian and Korea as the two countries celebrate 30 years of diplomatic ties. As part of the 2020 – 2021 Korea-Russia year of cultural exchanges that took place in Seoul Shvydkoy visited Korea.
He is a high-profile Russian with a background in cultural circles having studied Theatre at the Russian University of Theatre Arts before working in magazines and founding a television channel. From 2000 to 2004 he was also the Minister for Culture.
As a child, he was fascinated by Korea. In 1958 he was introduced to the world of Korean Fairy tales through a book that had been translated by Anna Akhmatova, one of the great Russian poets of the era. What he read fascinated him and he wanted to learn more.
Whilst Russian culture is particularly well known in Korea with works by classic authors and poets like Chekhov, Tolstoy and Dostoevsky being particularly well-read, there is a lot less that is known about more contemporary Russian literature.
Last year the two countries began to rectify this with a cultural exchange programme which saw each one being introduced to the works of five new writers so that they were more familiar with the contemporary culture that existed in the other country.
The Korean language is now a part of the curriculum in Russia and the two countries have a reciprocal travel/study arrangement in place.