We begin the week here on My Poetic Side with a look at the poet Michael Rosen and what he has been doing since he left hospital following his lengthy battle with Covid-19.
Michael Rosen After COVID-19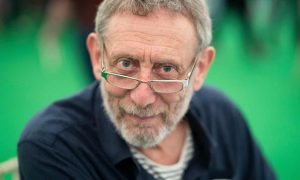 Earlier this year, the poet Michael Rosen spent 47 days in intensive care and several weeks in the hospital recuperating from COVID-19, before finally being allowed to return home to his wife and children. For many people, a period of rest and further recuperation doing little but gently getting back into the swing of things would have followed. Rosen, however, has spent the time since he returned home writing a new book. Rigatoni the Pasta Cat, the latest in a series of books he has written that has been illustrated by Tony Ross, was a cathartic exercise that helped him to adapt to being back home and took just a couple of days to write.
Thinking of what he wanted to write helped him when he was in the hospital and later in rehab and made him all the more determined to get well enough to return home. The former children's laureate not only had to learn to walk again following his time in hospital but has recently confirmed that he has lost the hearing in his left ear, the sight in his left eye and is now beginning to lose his hair as well. His house he says resembles a pharmacy with the number of medications he has to take, and he has even written a poem dedicated to his pillboxes.
Rosen's publishers say they were astonished when they received an email containing the manuscript for the book. They had already made decisions to delay some of the expected work given how ill Rosen had been and receiving such a funny manuscript after such a trying time really blew them away.
The book is due to be published in 2022, in the spring. It will join other titles such as Hampstead the Hamster – the series has seen sales increase by around 700% since the beginning of the lockdown.
Rosen has also been in the news for a couple of other reasons recently. His wife had booked a cottage holiday for them to help with his recuperation and they were unfortunately amongst the number of Hoseasons and cottages.com customers who suddenly found their booking cancelled due to double booking which the company claim came as a result of unprecedented traffic to their website.
He has also lent his voice, as he has many times before, to the plight of students in the UK. This time taking to Twitter to express his disgust at the way in which the GCSE grades have been awarded and urging the government to trust the predicted grades of the teachers who know their pupils and also to consider the mock exam results. He is one of a growing number of people who have appealed to the government to take an urgent look at the decisions that have been made and reverse the decisions that will have such a huge impact on the future of so many of the next generation.