Today, our poetry news round up takes a look at the Sylvia Plath auction and the poet and author struggling with long covid.
Sylvia Plath Collection Sells at Auction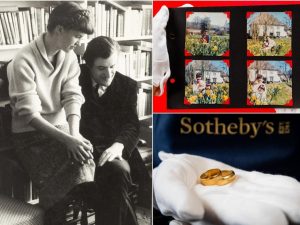 We recently brought you a story about a collection of love letters that the poet Sylvia Plath sent to her husband Ted Hughes that were going up for auction.
The collection has now sold and raised a total of £777,610 over a collection of 50 lots.
The items in the collection had been put up for sale by Frieda Hughes, the poet"s daughter from her marriage to Hughes, and included a number of passionate love letters between her parents. The items were all sold by Sotheby's in London.
There were 16 letters in the collection which sold for £309,200. The wedding rings that Hughes and Plath exchanged on their wedding day fetched £27,720 and a sketch of Hughes that was made by Plath sold for £31,420.
Speaking after the auction Frieda Hughes said that the items represented the happiest part of the relationship between her parents, when they were supportive of each other and still very much in love – the part of their lives where they worked well together and supported each other with their creativity. She hopes that the items have gone to those who will really treasure them and who will take the right steps to preserve their history.
Hughes and Plath met and married after a whirlwind romance. Their marriage was a tempestuous one that ended in divorce. Plath took her own life, aged just 30 in 1963.  She is buried in Heptonstall village where her grave has become something of a pilgrimage for her fans. Her gravestone is often vandalised with the name Hughes crossed out by her followers who blame the poet laureate for the fact that Plath committed suicide.
Michael Rosen a Year on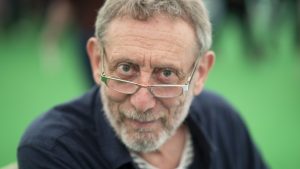 The poet, former children's laureate and author Michael Rosen is still suffering from the side effects of Covid over a year since he became ill with the virus.
Last year Rosen, who is famous for his book We're Going on A Bear Hunt, amongst others spent 47 days in an induced coma in hospital in the intensive care unit. He woke up in May 2020 and after a long and slow recovery began to undertake physiotherapy in order to be able to return home to his family.
He is estimated to be one of around 2 million individuals who are suffering from long covid. He has numb toes, gets dizzy easily, has problems with both his left eye and ear and also struggles with vertigo. He also feels that he has to think about his breathing a lot – although he ponders whether this is a result of the coma rather than the Covid.
Since he returned home from his lengthy hospital stay, he has not allowed the symptoms of his long covid to stop his day to day life and has continued with his writing; Many Different Kinds of Love is his recently published book inspired by his experiences with Covid.
Rosen will be appearing at the London Literature Festival where he will talk about being cared for by the NHS and the wonderful medical staff who saved his life. Writing about his experiences has helped him to comes to terms with exactly what has happened to him.