Today on My Poetic Side, we bring you the sad new that one of the great poets of the Beats Era, Lawrence Ferlinghetti has passed away at the age of 101.
Beat Poet, Lawrence Ferlinghetti Passes Away Aged 101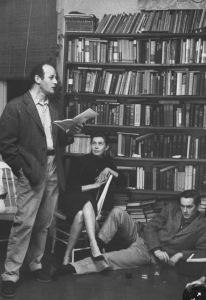 The publisher, painter, poet, political activist and co-founder of City Lights bookshop Lawrence Ferlinghetti has passed away at the age of 101. His son Lorenzo confirmed that he died at his home on Monday night, the cause of death was lung disease
Born in Yonkers, New York in 1919 Ferlinghetti never knew his father, who died before his birth. He was raised by his aunt when his mother was committed to a mental institution. At the age of seven his aunt, who had been working as a governess ran off, leaving the young Ferlinghetti in the care of the family who had been employing her.
He attended North Carolina University and in 1941 became a journalist. During World War Two he joined the US Navy. He began writing poetry whilst he was studying at the Sorbonne in Paris where he gained his doctorate.
In 1951 he returned to the US and settled in California. He felt that it had a Mediterranean feel to it, a little like Dublin might have been when James Joyce was there.
In 1953 he became a co-founder of the City lights publishing company and bookstore with Peter Dean Martin. Martin left the project soon after. The bookstore was different from most of the others in the US at the time, whilst they closed early and on weekends City Lights was open seven days a week, and late. The store attracted poets like Allen Ginsberg and Jack Kerouac. Initially, the bookstore sold paperbacks and concentrated on publishing books of poetry that were radical and somewhat offbeat. These included works by Gary Snyder, Gregory Corso and Paul Bowles.
In 1955 Ferlinghetti agreed to publish Ginsberg's "Howl". It was printed in Britain, shipped to the US and seized. In 1957 the pair were arrested on charges of obscenity. The poem was successfully defended at a trial that lasted for several months and gave new freedom to books from all over the world.
Ferlinghetti's first collection of poetry was published in 1958. He wrote in excess of 50 collections of poetry, travel journals and novels during his career; the last one was published to coincide with his 100th birthday.
In 1994, a street in San Francisco was named after Ferlinghetti, and in 1998 he was named as the first poet laureate of the city.
He continued to work at City Lights until late into the 2000s, he could often be found talking to customers or simply changing light bulbs.
In his later years, he was almost blind and mostly bed-bound.
In 2019 the 24th of March was named Lawrence Ferlinghetti Day by the city to mark his birthday.
Lawrence Ferlinghetti is survived by his son, Lorenzo Ferlinghetti, his daughter Julie Sasser and three grandchildren.