On April 29th, nearly five hundred bookstores across the country will be participating in the nationwide party that is Independent Bookstore Day. It's a day to celebrate brick and mortar bookstores and the communities they serve – to give toasts over cupcakes and overload friends with recommended reading. But it's also a day to celebrate local writers. This year, we're highlighting our favorite independent bookstores and the contemporary poets who call the region home.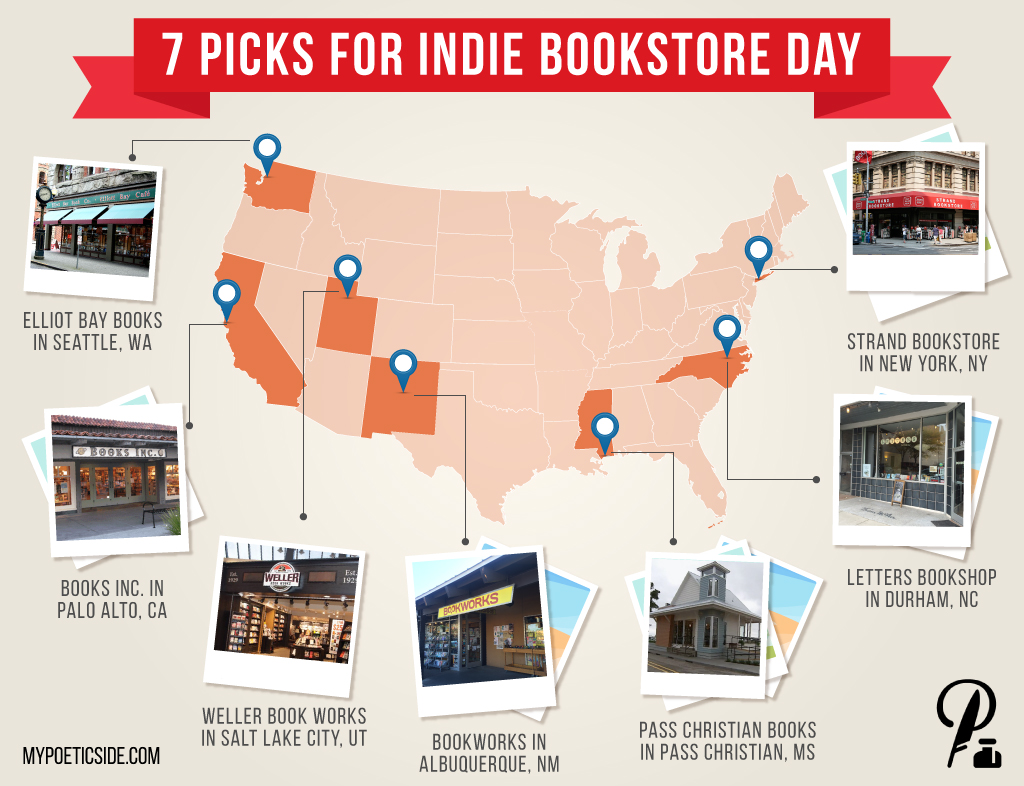 Elliot Bay Books in Seattle, WA
Nestled in the heart of the Capitol Hill neighborhood, Elliot Bay Books is the literary destination in Seattle. With two floors spanning every genre imaginable and a café for a bite and a breather, Elliot Bay is sure to be an exciting place to be on Independent Bookstore Day. While you're there, pick up Don Mee Choi's Hardly War. Choi is a Seattle poet and has been awarded both a Lannan Literary Fellowship and a Whiting Award. When she isn't writing her own poetry, Choi works as a translator of contemporary poems by Korean women.
Bookworks in Albuquerque, NM
Situated in the city's North Valley, Bookworks has been an Albuquerque staple for more than thirty years. The store takes pride in its independent status and embraces their mission to connect books and readers. Bookworks' Independent Bookstore Day festivities include two events with local cookbook authors, literary crafts, and a book themed selfie station. While you're there, pick up a copy of Carmen Gimenez Smith's Milk & Filth. Smith is a New Mexico-based poet known for poems that unpack Latinx female identity. Milk & Filth was a finalist for the National Book Critics Circle Award.
Strand Bookstore in New York, NY
Boasting 2.5 million new and used books and ninety years in business, the Strand Bookstore is the lone survivor of Greenwich Village's Book Row. In 1927 when The Strand opened, forty-eight bookstores spanned six city blocks. Today, the Strand Bookstore is proud to be a place where books are loved and booklovers are the number one priority. Celebrate Independent Bookstore Day and The Strand's commitment to being a community of local readers and writers by picking up Marie Howe's The Kingdom of Ordinary Time. Howe's poetry explores the interplay between obsession and the spiritual, writing about everything from metaphysical phenomena to profound loss.
Weller Book Works in Salt Lake City, UT
Located in historic Trolley Square, Weller Book Works has been serving Salt Lake City for over eighty years. The bookstore is a family business in the truest sense, with Tony and Catherine Weller serving as owners and book buyers, their teenage daughter Lila Ann working as a bookseller, and 102-year-old Lila writing descriptions for Weller Book Works' online store. This Salt Lake City mainstay has gone through several name and location changes over the years, but the store has been happily settled on Main Street since 1961. While you're there, ask for Paisley Rekdal's Imaginary Vessels. Rekdal is a Salt Lake City-based poet known for her reflections on race, mythology, and sexuality.
Pass Christian Books in Pass Christian, MS
This beautiful two story bookstore boasts large windows and a soft nautical color scheme – complete with a deck overlooking the Gulf of Mexico. Pass Christian Books has been a Mississippi institution since 2002 and shares a location with Cat Island Coffeehouse. And since coffee and books pair perfectly, we're certain that Pass Christian Books has a long life ahead. The second floor of the bookstore is known as The Mississippi Loft – named after the floor's focus on Mississippi authors and subjects. Pick up Natasha Trethewey's Native Guard, which won her the Pulitzer Prize in Poetry. In 2012, Trethewey simultaneously served as the Poet Laureate of Mississippi and the Poet Laureate of the United States.
Books Inc. in Palo Alto, CA
With eleven independently owned bookstores operating under the Books Inc. umbrella, it's difficult to choose a favorite location. But we have a special place in our heart for the understated Palo Alto outpost. And the Palo Alto Weekly must feel the same way because they've named Books Inc. the best bookstore in Palo Alto for three years running. While you're there, make sure to buy a copy of Solmaz Sharif's Look, one of last year's most anticipated poetry collections. Look was a finalist for the National Book Award in 2016 and was named one of last year's best poetry collections by The Washington Post. We're already eagerly anticipating everything this Stanford-based poet writes.
Letters Bookshop in Durham, NC
Land Arnold, a Research Triangle bookseller with a long resume, had always imagined empty storefronts as bookstores waiting to be born. So, when he found the perfect downtown Durham location in 2013, he jumped at the chance to turn the empty storefront into Letters Bookshop. While you're perusing Letters' collection on Independent Bookstore Day, be sure to pick up a copy of Nathaniel Mackey's Nod House. Mackey cites John Coltrane and Don Cherry as influences and the way jazz permeates his poetry is nothing short of stunning. After spending many years in California, Mackey now teaches creative writing at Duke University, a stone's throw from Letters Bookshop.