In today's poetry news round-up we bring you the sad news that the Ukrainian poet Ivan Drach has passed away at the age of 81.
Ivan Drach, Ukrainian Poet, Passes Away at 81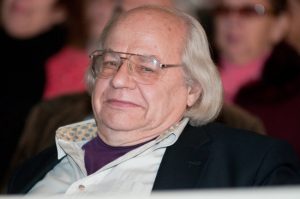 The Ukrainian poet, political activist and screenwriter Ivan Fedorovych Drach has died at the age of 81. He had been receiving treatment in the hospital in Feofaniya in Kiev for an illness.
News of his death was broken on Facebook by the Ukrainian film Critic Sergiy Trymbach on the 19thJune.
Born in October 1936 Drach went straight from secondary school into the military as part of his compulsory military service. Following the completion of his military service, he went to the University at Kiev, 1959 to 1963, where he studied language and literature. He spent much of his time whilst at university at the "Club for Creative Young People (Klub tvorchoyi molodi) where he took part in literary evenings.
It wasn't until 1961 that he first came to prominence with "Knife in the Sun" a poem-tragedy which was published in the local Kiev newspaper, this was during a period known as the Khrushchev thaw, when attitudes towards creativity were relaxing slightly.
Drach worked for several newspapers at this time "Literary Ukraine" and Fatherland" he was also employed in the O.P Dovzhenko film studios.
During the period of Perestroika, and the first few years of the Ukraine's independence, Drach gained further prominence as a political activist. In 1989 together with a number of other Ukrainian political dissidents, Drach helped to establish Rukh – the first nationalist, anti-Soviet movement that existed in a sovereign Ukraine. He was the first president of Rukh from September 1989 to February 1992. Following this he was also the co chairman of the NRU until December 1992. His political career did not end here he went on to become a member of the Ukrainian parliament, Verkhovna Rada.
During his lengthy and varied career, Drach wrote 20 poetry collections which were translated from Ukrainian into a number of other languages. He was also a member of the Writers Union of Ukraine and head of the committee presiding over the Ukrainian Book of the Year presidential award. He also won several awards for his poetry. In 1976 he was awarded the USSR State Prize for his poetry collection "The Root and the Crown". He also received the Order of the Red Banner of Labour, the Shevchenko National Prize, the Antonovych prize in 1991 and the Order of Prince Yaroslav the Wise. In 2006 he was given the title Hero of Ukraine – the highest national award that can be given to an individual citizen by the president.
Ivan Drach is survived by his wife Mariya and his daughter Maryana. He will be buried in Telizhentsi in his native Kiev next to his son Maksym who died in 2009.