Today in our poetry news round-up, we take a look at the death of the prize-winning poet Gerald Stern.
Prize Winning Lyrical Poet, Gerald Stern, Dies Aged 97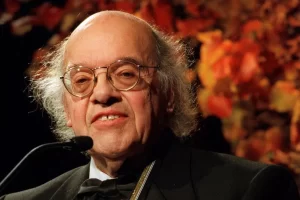 One of the most respected and loved poets in America has died at the age of 97. Gerald Stern was known for the spirited melancholy of his poetry, the earthy humour that he used when describing his childhood, mortality, Judaism and the contemplative life that he led.
Stern was the first poet laureate appointed to New Jersey. He died in New York City at the Calvary Hospice, and his death was announced in a statement released by Anne Marie Macari, his long-time partner. No cause of death was given.
In 1998 Stern was a winner of the National Book Award for "This Time", his anthology. He was often mistaken for the poet Allen Ginsberg due to his round eyes and balding head, and his style was compared favourably to that of Walt Whitman due to his sensual and lyrical style, which saw him mixing the physical world with the cosmos at large. Much of his work was influenced by the urban surroundings he grew up in Pittsburgh, animals and nature.
Although he was born to Jewish parents, he was a lifelong agnostic, believing in what he termed "the idea of the Jew." In many of his books, he described himself as being part idealistic, part comedic, smeared with sarcasm and mockery and coloured with irony. His part, and that of his parents, who were immigrants, featured in much of the poetry that he wrote, and he always claimed that his poem "The One Thing in Life", which formed part of "Lucky Life", his 1977 collection, was the work that defined him as a person the best.
Although he began writing poetry at a young age, it wasn't until he was over 50 that he actually won any major awards. However, the second half of his life was much more prolific when it comes to awards. In 1991 he was a Pulitzer Prize finalist for "Leaving Another Kingdom". He was also a recipient of the Wallace Stevens Award and the Ruth Lilly Prize, and in 2013 he was awarded a Rebekah Johnson Bobbitt National Prize for his early collected poetry.
Stern often said that as a child, he remembers no particular literary influences in his life, however, he was traumatised by the death of his older sister when he was just 8. He attended the University of Pittsburgh, where he studied political science and also gained a master's degree in comparative literature from Columbia University. The first poets that he really studied were W.B. Yeats and Ezra Pound.
He was married to Patricia Miller and had two children, a boy and a girl. The marriage ended in divorce. He found love again with his long-time partner Anne Marie Macari. He is survived by Macari, his children and two grandchildren.