We begin the week here on My Poetic Side with the news that the Hebrew poet Natan Zach has died aged 89.
Natan Zach Dies Aged 89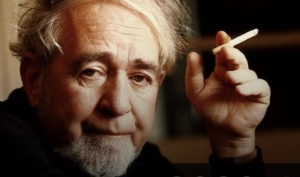 A winner of the Israel Prize and one of the most important Hebrew poets of all time, Natan Zach, has died aged 89.
As a young writer in 1959, Zach rose to fame in the world of Hebrew Literary arts when he published "Reflections on Alterman's Poetry" in the "Now" journal. The publication was particularly scathing of the poetry written by the Zionist poets and in particular those of Natan Alterman. At the time Zach was just a 29-year-old poet who had recently published his first book of poetry, whilst Alterman was a 49-year-old poet famous as a national poet.
The principles that Zach followed, together with other members of the "Lakraat" group – wew considered rebellious. Not only did they break poetic structure of the time, but they dominated the field of Hebrew poetry right up to the 1960s
In some of his first poems "The Right Song" and "All Milk and Honey" Zach details what he believed poetry should look like.
Born in 1930 in Berlin, Zach was christened Harry Zeitlbach. His father was Jewish and his mother Italian. His father took his own life when he was unable to adapt to living life in Israel.
Zach took part in the War of Independence and is first collection of poetry "Beshlosha" was published in 1953. The collection was published in partnership with Aryeh Sivan and Moshe Dor.
This was quickly followed by his second collection in 1955, "First Songs" and then "Different Songs" his third book which is widely considered to be his most important one.
In addition to publishing his own poetry Zach also translated plays and poems in including Caucasian Chalk Circle by Brecht and Kaddish by Allan Ginsberg.
He attended the Hebrew University and held a bachelor's degree in political science and philosophy.  He spent 10 years in the UK where he gained a doctorate at Essex University. He returned to Israel where he was an educator at Tel Aviv University before taking up a position as a professor at the University of Haifa.
He was a recipient of many awards during his lengthy career, including in 1982 the Bialik Prize, the ACUM Prize for Lifetime Achievement in Hebrew Song, in Italy, the International Prize for Poetry and in 1995, the Israel Prize.
Natan Zach married Sarah Avital, his partner of 40 years, in 2014. Most recently he had been hospitalised in Ramat Efal in the Mashen nursing home. A recent investigation was carried out as it was believed that Avital had forced him into marriage, had forced him into the home and was attempting to make him hand his home over to her. These are allegations that she denied stating that "I have not made a career out of my relationship with him."