We begin another week here on My Poetic Side with a look at more of the #comfortandhope poetry from BBC Radio 4. We also have short articles about Idris Elba reading poetry and the postponed event for the last Scots Makar.
More #comfortandhope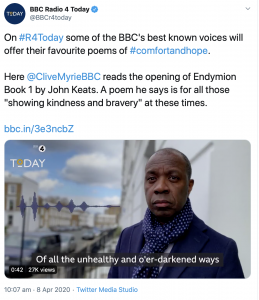 Following on from last weeks look at the BBC Radio 4 programme that saw well-known voices reading poetry that was important to them we bring you a couple more of those poems. On 8th April Clive Myrie read some of John Keats Endymion Book 1. The reason behind his choice was that he wanted to read something that was aimed at those people who "show bravery and kindness" at this difficult time.
On 9th April it was the turn of Sir Simon Russell Beale the actor who has been described as the "greatest stage actor of his generation". He chose William Shakespeare's Sonnet 29. He describes this as being on of Shakespeare's best pieces of writing.
Idris Elba Reads "Don't Quit"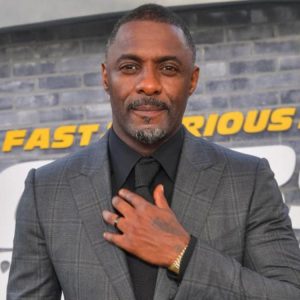 The actor Idris Elba tested positive for Coronavirus late last month, he has been given the all-clear. Wanting to do his bit to help those people who might be struggling with self-isolation or symptoms of the virus he has been reciting poetry to help lift people's spirits.
The poem he chose was Don' Quit which was written by John Greenleaf Whittier, the American poet.
Unfortunately for Elba, he is currently stuck in the wrong country, although he is not alone as his wife who also tested positive for the virus is with him. When the borders were closed, he was not at home and so will be spending his period of self-isolation away from home. Because of this, he felt it was particularly important to do his bit. As well as reciting the poem he also urged people to stay safe during the pandemic, stay home and not to venture out unless they have to, and that social distancing was the most important thing for people to be doing.
Edwin Morgan Centenary Event Postponed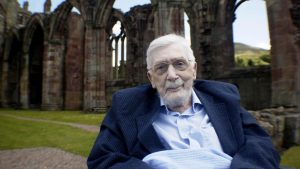 An event that had been planned to honour the centenary of Edwin Morgan the First Scots Makar (the Scottish equivalent of the Poet Laureate) has been postponed due to the Coronavirus pandemic.
Talking about the event Professor Gerard Carruthers, laughed saying that he believed Morgan would have written a wonderful poem about the pandemic. He believes that the situation at the moment would have really appealed to his sense of wonderment about the natural world.
It has been 10 years since the poet died but in some ways, he now finds himself a victim of the pandemic. The symposium of his work and life that had been planned at Glasgow University for the end of April had been arranged to coincide with the centenary of his birth will no longer be able to take place. The university is hoping that they will, however, be able to reschedule the event very soon.
Whilst Morgan may be gone, they want to ensure that he will certainly never be forgotten.