Today on My Poetic Side we take a look at the poets making a living record of Coronavirus, an Earth Day message and more #comfortandhope.
Living Record of Coronavirus Created by Poets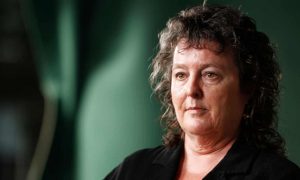 Carol Ann Duffy, the former poet laureate of the UK, is spearheading a project which will see a number of British poets creating a "living record" of the Coronavirus pandemic.
The international project which as launched by Duffy features major names in the world of poetry including Imtiaz Dharker, the Scots Makar Jackie Kay, Roger McGough and Ian and Andrew McMillan.
The title that has been given to the project is "Write Where We Are Now" and will offer a chance for reflection and ideas based on the strange times that we are going through. It will also create a living record of the events of the pandemic as seen through the eyes of the poets from their various locations all over the country.
Duffy wrote her own poem on 26th March, titled Hands it looks at how every Thursday the nation joins together from their various location at the same time and claps for the NHS.
Andrew McMillan's poem is titled Garden and examines the rise of the deaths in the UK. He talks about how in the beginning there were just a few and they were named, but far too soon the numbers rose at such a high rate that they were reduced to faceless numbers.
The project is being run in conjunction with Manchester Metropolitan University's Manchester Writing School. The contributions will come from well-established poets as well as emerging names such as Raymond Antrobus, a recent winner of the Ted Hughes poetry award.
Dharker's emotional poem, Cranes Lean In, takes a look at the realisation of all parents that they will be isolated from their grown-up children, not able to hug them or see them in person for a long time.
Whilst these poets are just writing one poem for the project George Szirtes, a T S Eliot poetry prize winner, is writing a new poem every day. There are also poets writing from lockdown in China and Italy as well.
Joy Harjo's Earth Day Message
Poet Laureate of the US, Joy Harjo shared a special message yesterday for Earth Day on YouTube.
April 22nd 2020 marked the 50th anniversary of Earth Day, a day that was created to show support for the protection of the environment. Usually, there are globally coordinated events that takes place in over 193 countries to mark the occasion.
Harjo shared a piece of poetry with her listeners, but she changed a few of the words in so that the poem reflected the rain that was falling in Tulsa at the time.
#comfortandhope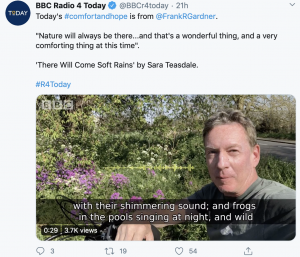 Yesterday's #comfortand hope was There Will Come Soft Rains by Sara Teasdale which was read by Frank R Gardner. He chose this particular poem because there will always be rain, and he felt that the idea things will return to a more normal is a very comforting one.