Today our poetry news roundup brings you articles about the poet's cottage that has been given listed building status, the celebration of Romanian poetry and the AI poetry at Expo 2021 in Dubai.
National Heritage for England Adds Poet's Cottage to Listed Buildings List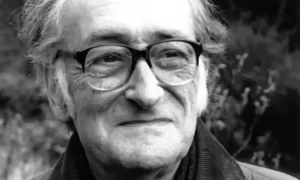 A cottage that was once the home to a poet in Ozleworth is just one of almost 300 historic sites that have been identified in England to become listed buildings this year.
Historic England have chosen to highlight this particular cottage amongst its sites located in the southwest that have been either protected through scheduling or listing in the last 12 months.
Brook Cottage in Ozleworth Valley was the home of Charles Tomlinson, the acclaimed poet. He lived there from 1958. The cottage was one of a pair that were built towards the end of the 18th century or the beginning of the 19thcentury. Brook Cottage and Bridge Cottage were built to house workers from the nearby Ozleworth Park estate. When the estate was broken down in 1947 the cottages were sold, and Charles Tomlinson moved into Brook Cottage in 1958. He converted the two cottages into one in 1961.
The areas around Brook Cottage and Ozleworth both offered inspiration to Tomlinson for much of his poetry. He travelled extensively but the cottage offered him a home base where there were often literary gatherings during which he was visited by the likes of Bruce Chatwin and Ted Hughes.
Baku Highlights Romanian Poetry
A presentation of poetry by the Romanian writer and poet Mihai Eminescu has taken place at the National Carpet Museum. The event was a collaboration between the Romanian Embassy in Azerbaijan and the museum.
Romania was the second country who recognised the independence of Azerbaijan, which took place on 11thDecember 1991, and the Embassy in Romanian was the very first diplomatic mission that was opened by any country from Eastern Europe. The bilateral ties between the two countries have been growing ever since.
A collection of poetry is to be published in Azerbaijani in an effort to help the public become more familiar with the literary heritage of Romania.
Computer Written Poems to Light up UK Pavilion at Expo Dubai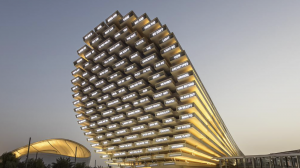 The phrase



formed part of the façade of the UK Pavilion at the 2020 Expo in Dubai at the beginning of the month.
These words were not written by a poet but are the result of an AI algorithm. A single word was chosen by one of the pavilions visitors and this was then used to create the poem. The words that the AI programme then created was what is referred to as a collective message – that is a continual stream that is formed by pairs of lines of verse that are successive, these couplets are shown in both Arabic and English using LEDs that have been mounted in a circle on timber slats.