We begin another week here on My Poetic Side With a short article about Alasdair Gray who has died aged 85. We also look at the Poetry Pharmacy,
Alasdair Gray Dies Aged 85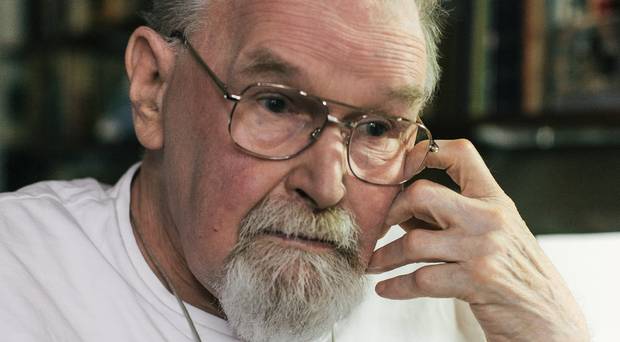 The renowned author, poet and artist Alasdair Gray who was hailed as a "cultural trailblazer" has passed away just one day after his 85th birthday. He had been suffering a short illness.
Known for "Lanark" his masterpiece and a number of novels including "Poor Things" Gray died in Glasgow at Queen Elizabeth University Hospital on Sunday surrounded by his family. There will be no funeral as Gray had requested that his body be donated to medical science.
During his lengthy and illustrious career, Gray wrote in excess of 30 books. He not only designed but also illustrated them. He was also the creator of a number of murals which are located in Glasgow. Some of his work is even on display in a number of galleries including the Scottish National Gallery of Modern Art and the V&A, as well as in some more unusual places such as The Ubiquitous Chip a restaurant in Glasgow.
Grays staggering body of work includes not only the novels for which he is mostly known but also a number of collections of short stories, plays, collections of poetry, translations and some works of non-fiction. His most recent work was a translation of the Divine Trilogy by Dante.
Politicians, including Nicola Sturgeon, musician, academics and fellow writers all took to social media to express their sadness at the passing of such an important figure in the literary world. They sent messages praising him for the work that he produced over the years and the inspiration that he gave to so many. They hope that the legacy that he has left behind will live on for many years in the hearts of the people of Glasgow.
The Poetry Pharmacy
The Shropshire town of Bishops Castle boasts a rather unusual pharmacy that is not at all like any other. The poetry pharmacy is the clever idea of Deborah Alma a poet who dispenses poems rather than medication to the people who visit her.
Most of the people who visit the poetry pharmacy are looking for something that will help them when they are dealing with the stresses that modern-day living brings. The shop is full of books which are arranged depending on the mood of the resident poet and the poetry they contain can, Ms Alma believes, assist with all manner of emotional illnesses from broken hearts to exhaustion and stress.
In addition to running the pharmacy Ms Alma also holds poetry consultations and runs workshops. Following an initial consultation with each "patient" a poem is prescribed that is best suited to each person, this is something that they can take home and consult when needed.
Whilst this may seem an unusual idea, a recent study conducted by the World Health Organisation confirmed that there is some evidence that the arts and poetry can be very beneficial to certain health conditions.