We begin our week here at My Poetic Side with a look at some interesting work researching the ink used by Robert Burns. We also have a short article about legendary Emirati poet Ousha bint Khalifa Al Suwaidi who passed away last week.
Adding Flavour to the Poetry of Robert Burns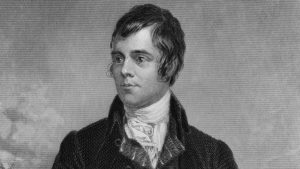 If you ever wondered what some of the great poets used to write their poetry, then wonder no more. Scientists have recently conducted research into the ingredients that Scottish poet Robert Burns used to pen some of his most famous works, and the results are a little surprising.
Whilst the results of the study offer an insight into the poet's life they could also prove invaluable when it comes to identifying forgeries. The study indicated that Burns used a wide selection of somewhat "alternative" ingredients in the making of his own ink; stale beer, elephant tusk – carbonised, sulphuric acid and lard. All of these ingredients were widely available during the poet's lifetime. The study also found that depending on the financial circumstances of Burns the quality of these extra ingredients also fluctuated.
The research was carried out at the University of Glasgow where they analysed the ink and paper of 12 documents – some authenticated works by Burns and some very good forgeries from the Victorian era.
At the beginning of his career, Burns used a purple-black ink made of iron gall however as he became more well known he moved to an ivory black ink that was more superior, towards the end of his career when finances took a nose dive he mixed the two.  Black ivory ink, which was once made from burnt elephant tusk is now made from recycled piano keys.
The results of the research together with the relatively simple way in which the sample ink can be lifted from documents for testing is providing something of a buzz in the art world. This is potentially the breakthrough that experts have been looking for to help them authenticate documents in the future without doing any damage to them. It could prove invaluable for museums and auction houses alike.
Tributes come in for Emirati Legend Ousha Bint Khalifa Al Suwaidi – the Poet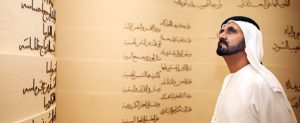 On Friday the prolific Emirati poet was laid to rest in the Al Quoz cemetery, following morning prayer. The prolific poet who was known as Girl of the Arabs (Fatat Al Arab) was 98.
Tributes poured in over the weekend in honour of the lady who was considered to be one of the greatest Nabati poets of the 20thcentury.
Poetry, prayers and tributes were shared throughout the country over the weekend in order to pay tribute to one of the greatest  poets of Nabati in the 20th century – Nabati poetry is a vernacular form of poetry.
The Ruler of Dubai and Vice President, Sheik Mohamed bin Rashid, took to Twitter to post