Today we bring you articles about a second poetry prize for Billy-Ray Belcourt, a Global Concert of peace and a poets violin and finally a community raising funds for a bust of a famous poet.
Second Win for Billy-Ray Belcourt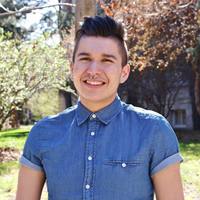 The winners of two of the great annual awards, in respect of visual arts and book authorship, in Edmonton have been announced.
Billy-Ray Belcourt, who recently won the $65,000 Griffin Prize, the biggest poetry award in Canada, has been named as the winner of the 2018



This is his second award for his poetry anthology



His work was described by the judges as



the judges were enthralled by his poetry and fell that it was a real bracing call to attention.
Belcourt, of Driftpile Cree Nation, is a 2016 Rhodes Scholar. He is currently studying at the University of Alberta in the English and film studies department.



is his first poetry collection.
The other books on the shortlist were both novels.
The winner of the visual arts prize was Gillian Willans, a still life painter. Both prizes have an award of $10,000.
Global Concert for Peace in Honour of Centenary of End of First World War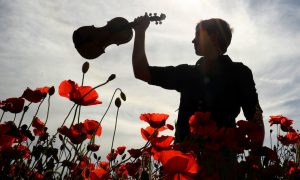 By now you are probably well aware that this year marks the centenary of the end of the First World War, and that a number of events are being planned all over the country and indeed all over the world to mark the occasion and honour those who fought.
A specially commissioned piece of music, aptly titled "Armistice" will see volunteer musicians playing at a crowdsourced concert on November 11that 4pm as part of an international project that it is hoped will promote peace.
The concert will also be shared, by way of live recordings, on social media using the following hashtags: #iPlay4Peace #ArmisticeConcert and #Concert4Cooperation.
The music has its own special connection to the war poet Wilfred Owen. It was scored on a violin, one of several referred to as the war poet's violins, that is named for the poet. It has been made from a branch of a sycamore tree that stands in the grounds of the former First World War shell shock hospital Craiglockhart in Edinburgh. The other two violins are named for Robert Graves and Siegfried Sassoon.
Community Raising Funds for Bust of Poet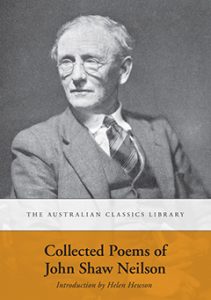 The community of Penola in South Australia has recently launched an appeal to commission a bronze bust of the renowned poet John Shaw Neilson. Neilson was born in Penola in 1872, his family moved around a lot during his younger years, mainly driven by drought and a lack of farm work. He eventually settled in Melbourne where he died in 1942.
There are several links to the poet in Melbourne, including a bronze sculpture but there is nothing in the town of his birth, something that local residents are hoping to change soon. #
The recently launched appeal is hoping to raise $16,000 and has already been able to raise $12,000 of the funds needed to commission the bust.