We begin the week with two news articles about World War I poets who are to be commemorated, the first with a book written about his life and the second with a commemoration ceremony that will be held in his hometown.
Portsmouth Author Brings WWI Poet the Recognition He Deserves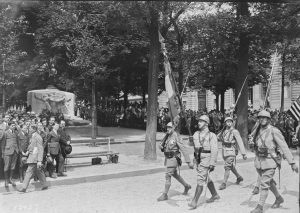 Sometimes the best art, unfortunately, emerges as a result of death, and this is especially true in the case of war. World War I produced some of the best and most memorable poetry, much of which was, of course, published posthumously. Rupert Brooke's "The Soldier" and "Dulce et Decorum Est" by Wilfred Owen are amongst just some of the poetry of WWI that are regularly studied by students during English classes.
Now a Portsmouth writer Chris Dicko has produced a biography that should bring attention to the work of another such poet; the American Alan Seeger. Killed at the age of 28 during the Battle of the Somme in 1916, Seeger only had one poem published during his lifetime, "Champagne 1914-1915". He is also known for "I Have a Rendezvous with Death" which Jacqueline Kennedy remarked was "the most shattering of all poetry" that her husband, President John F. Kennedy loved.
Dickon, who has previously published several books about the role the Americans had in World War I, is well placed to tell the story of Seeger. He was able to draw on the contents of letters and a diary that belonged to Seeger as well as a book by one of Seeger's fellow soldiers.
It is interesting to note that the Monument to American Volunteers Fallen for France, which was dedicated in Paris on 4th July 1923 whilst not a memorial to Seeger personally had its face modelled on the poets. The sculpture, which is bronze, is the only statue of a World War I American in Paris that is known to exist, there are only 2 in France.
World War I Poet to be Honoured in Home Town
A World War I pilot who grew up in St Ives in Cambridgeshire is to have a commemoration in his hometown.
The poet Miles Jeffery Day was shot down in 1918 aged just 21, he loved to write poetry about his love of flight and the landscape in Fenland. His name appears on the towns war memorial together with that of his brother Ivor, who was a poet too, however the fact that he was a poet is not well known in the local area.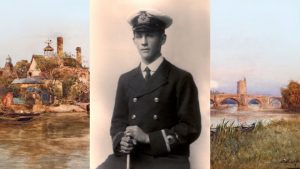 During the commemorating it is hoped that this state of affairs will be rectified with the reading of a number of his poems and letters.
At the age of 18 Miles entered the Royal Navy as part of the Air Service. He began his service as a pilot who performed test flights before later seeing active combat. His plane was gunned down while passing above the North Sea in 1918. He gestured for his companions to head home having managed to land, but he never returned and was presumed drowned at sea.
The commemoration will take place to mark a centenary of his death; the majority of the great poets from World War I were infantry, Day as a flyer and a poet is something of a rarity.