Today on My Poetic Side we take a look at Ocean Vuong and a virtual event he is taking part in, the Vietnamese statue of Pushkin and graffiti on Banksy's "Oscar Wilde" art.
Ocean Vuong to Headline Pittsburgh Event Virtually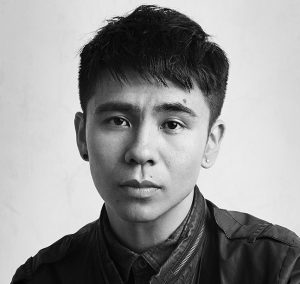 In 2018, the poet and writer Ocean Vuong burst onto the literary scene when he picked up the TS Eliot prize for "Night Sky with Exit Wounds" his first full-length poetry collection. The collection also won the Whiting Award for Emerging Writers.
He recently released his debut novel "On Earth We're Briefly Gorgeous"; the book was incredibly well-received. The subject matter touched in parts on the tale of an immigrant, the LGBTQ story, coming of age and is also in part a fictionalised memoir. Vuong was advised to pick a single theme for his book by editors but chose to follow his own path and "On Earth" is a rare work that lives up to the lines from "Song of Myself" by Walt Whitman which states "I contain multitudes".
Growing up Vuong had very little. His writing, which comes from the heart, is inspired by this and his beliefs. He knew what it was he wanted to write and the risks that he wanted to take and was inspired by Moby Dick by Herman Melville, which he refers to as a travelogue.
On Monday, Vuong will be taking part in the virtual lecture from the Pittsburgh Arts and Lectures' Ten Evening series.
Pushkin in Hanoi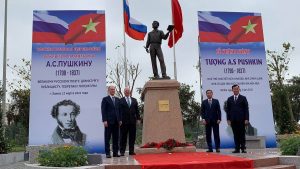 A statue of the Russian poet Alexander Pushkin has been unveiled in Hanoi by the Russian Embassy in Vietnam. The statue, which is bronze and 2.1 metres tall, is seen as a symbol of Russia, a country that Vietnam considers to be a close friend and has been erected as a symbol that both countries want to increase their cooperation.
The statue is a gift from the Russian Writers Association to the city of Hanoi and was agreed upon during an initiative that began in 2016. Pushkin is considered to be one of the most popular Russian poets amongst the people of Vietnam.
Banksy With Poet Connections Vandalised
The recent Banksy work on the wall of Reading prison, where Oscar Wilde was once a prisoner, has been defaced.
The graffiti, which was seen by many as the artist support for plans to turn the prison into an arts centre, appeared overnight earlier this week. Written in red paint it now carries the phrase "Team Robbo". It is believed that this refers to King Robbo, another graffiti artist who was a rival of Banksy and who died in 2014.
A clean-up operation was mounted by staff members for the prison who were said to be "gutted" that anyone would have wanted to do this.
The artwork has attracted a huge amount of attention since it was first discovered and there has been an increase in interest in the project for the former prison building as a result.