Today on our poetry news round-up we look at the coronation of King Charles III, and we have a short story about a new genus of butterfly.
The Poet Laureate's Poem for a Coronation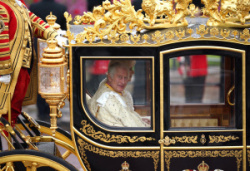 Simon Armitage, the Poet Laureate, has written a poem to mark the occasion of the coronation of King Charles III.
Titled "An Unexpected Guest", the poem looks at the story of a woman who has been invited to the coronation and even uses some lines from Samuel Pepys diary. These lines describe the diarist's encounter at the coronation of King Charles II and point towards the historical significance of this occasion. In the poem, Armitage explores the "ordinariness" of the guest at the 2023 coronation with the following extract which we have reproduced here.

He has ended the poem with lines about a sparrow flying through the abbey, which is an image that can be dated back to literature from the Anglo-Saxon times when a sparrow flying in an ancient hall was a metaphor to symbolise the brevity of life.
Spoken Word at the Coronation Concert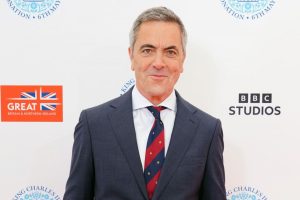 Following the coronation of King Charles III on 6th May, the celebrations continued with a special concert on 7th May. Whilst the singers, both pop and classical, may well have been headlined as the big acts to watch, there were some fantastic spoken word performances in evidence as well.
The actor, James Nesbitt, who has previously met the King, took part in the reading of a poem penned especially for the occasion by the chairman of the Royal Society of Literature, Daljit Nagra. The poem, which began with the line

had been penned to form part of the Lighting up of the Nation portion of the concert, which saw landmarks all over the UK light up with colourful laser displays and projections.
The fashion designer Stella McCartney, who shares the King's passion for conservation, also took to the stage with a spoken word piece about that very subject This heralded a portion of the evening that was given to conservation issues and also showed some little-known facts about the King and his passion for the environment.
Lord of the Rings Inspired Butterfly Species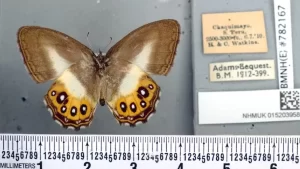 A new group of butterflies has been named by scientists after Sauron, the villain in the Lord of the Rings Trilogy by the author and poet J.R.R. Tolkien.
The butterflies are to be named the Saurona genus because the insect's orange wings with black rings are reminiscent of the all-seeing eye that is described in the books. It is hoped that this unusual name will help to generate more research and draw attention to the species, which currently includes just two butterflies, Saurona aurigera and Saurona triangular.