Our final news round-up of the week here at My Poetic Side brings you a delightful story about Arabella Kushner, the granddaughter of President Donald Trump and her Mandarin poetry recital. We also look at the Cave in Spain that is hoping to be awarded UNESCO World Heritage Site status and is drawing attention to their project with a giant poem.
Poetry in Mandarin for the President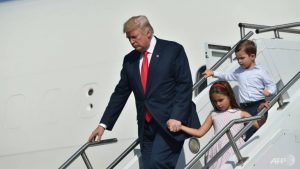 We have written before about the President Donald Trump and the influence he appears to have become to poets everywhere; from those who create poetry from his tweets to others who simply use his as the basis for their poems. Well once again Trump is in the new and linked to poetry, but this time the story is very different and involves Trumps six-year-old granddaughter Arabella Kushner.
Trump is currently in China for a meeting with Xi Jinping the Chinese leader. During a stroll around the Forbidden City Trump showed the President a video of his granddaughter in which she performed a number of ballads in Mandarin and recited some ancient Chinese poetry.
According to Xinhua, the state news agency in China, President Xi Jinping has been heard to say that Arabella's skills with Mandarin should earn her an A+. And if Weibo, the Chinese equivalent of twitter is to be believed then people were amazed and delighted by her performance.
The big question on many people lips is was this some sort of publicity stunt orchestrated by the Trump administration? It would appear the answer is no; the children of Ivanka Trump have a Chinese nanny who speaks to them in Mandarin, and this isn't the first time little Arabella has played her part for Sino-American relations. In April when Xi visited Mar-a-Lago, Trumps Florida resort she recited


Poetry in the Caves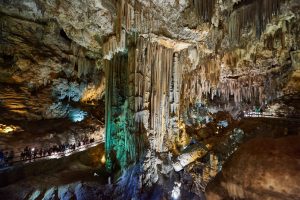 In 1959 the caves named Nerja in the Costa Del Sol region of Spain were discovered by hunters who were looking for bats. Now the Nerja Foundation begins a campaign that it hopes will result in the Nerja Caves being named as one of the UNEXCO World Heritage Sites.
11 years ago, the caves were declared to be a cultural interest site, and on Tuesday this week the Neerja Foundation unveiled its new project.


which it hopes will give their bid for UNESCO World Heritage Site status a much-needed boost.
The project consists of a poem which is 120 meters in length that has been stretched out to cover the Europe Balcony. This isn't the first time that a Giant Poem has been used a project, the influence for the poetry in the Nerja Caves comes from the Giant Poem project that was previously organised by the Poetopia organisation. They placed 150 meters of poetry reel in the squares and streets of several cities; to date these reels have accumulated over 9000 meters of verse which stretch across the world.
The caves at Nerja house a Stalagmite that measures 32 meters high; the largest in the world. They also contain what are thought to be some of the most ancient drawings ever found that have been sketched by human hand