Our final poetry news round up of the week brings you the shortlist for the TS Eliot Prize. We also take a look at a play about the life of the poet Charles Sorley.
2018 TS Eliot Prize Shortlist Announced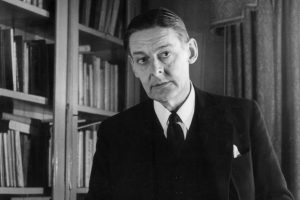 The shortlist for this year's TS Eliot Prize has been announced, and it could be said to be somewhat political. There are five debut collections in the list – which is 10 strong – and the split between men and women is equal, 50:50.
The five debut collections on the list are "The Distal Point" by Fiona Moore, "Us" by Zaffar Kunial, "Shrines of Upper Austria" by Phoebe Power, "Soho" by Richard Scott and "Three Poems" by Hannah Sullivan.
There are also some more well-known names on the short list. US poet laureate and Pulitzer Prize winner Tracy K Smith with her collection "Wade in the Water" which is inspired by a spiritual song from the underground railway. Also included is "American Sonnets for My Past and Future Assassin"  by Terrance Hayes, which takes a look at the first 200 days of the presidency of Donald Trump. There is also a somewhat political collection from Sean O'Brien, a former winner of the prize, who has taken the relationship between England and Europe as the inspiration for his collection.
Sinead Morrissey, the chair of this year's judges and a former winner of the prize feels that this year's list offers



There were 176 collections entered for the prize this year, the largest submission they have ever seen. One poet will receive a prize of £25,000 and each of the other shortlisted poets will take home £1,500 each.
A special event will take place on January 13th, 2019, at the Southbank Centre, where each of the shortlisted poets will be invited to read a selection of their poems. The winner will be announced the following day.
Last year's winner of the TS Eliot prizes was Ocean Vuong with his debut full length collection.
WWI Poet Charles Sorley's Work Coming Home
The last poem written by Charles Hamilton Sorley which was found in his military kit following his death has provided the title for a poignantly written play. "It Is Easy To Be Dead" by Neill McPherson will be taking centre stage from 11th November to 14th November.
In the poem that inspired the play, Sorley expressed his feelings regarding the stark reality that is death and the futility of those weeping over those soldiers who had fallen in battle. The voice which Sorely gave to his poetry is one that McPherson feels is very much needed today. Whilst at first glance he might have seemed like a gallant young officer from a privileged public-school background, he was also very much aware of his upbringing and what horrors war would bring. As a teenager he was writing about how



whilst his contemporaries like Rupert Brooke were still in the early stages of patriotism.
Other poets believed him to be an incredibly important poet. Robert Graves thought of him as



Sorley is one of Scotland's unsung heroes, this play will go some way towards rectifying this.