Today on My Poetic Side we take a look at the rescinding of the award for this year's Nelly Sachs Prize. We also have the sad news that Graeme Gibson has died at 85 and the Turkish tower taking part in a cancer awareness campaign inspired by a poet.
Literary Prize Rescinded for Kamila Shamsie
Following on from a previous article we can now confirm that the city of Dortmund has rescinded their decision to award the Nelly Sachs Prize to the British-Pakistani writer Kamila Shamsie. The prize, which is worth €15,000, was awarded to Shamsie earlier in the week.
However, following the announcement, the judging committee became aware that Shamsie was a supporter of the movement that boycotts Israel. They felt that the decision to rethink the award was necessary; Sachs was a Nobel laureate and Jewish poet who celebrated tolerance, reconciliation and respect – qualities they felt were not in keeping with their chosen winner.
Shamsie herself requested that the judging committee should take steps to look for another winner. No new winner has yet been announced.
Graeme Gibson Dies Aged 85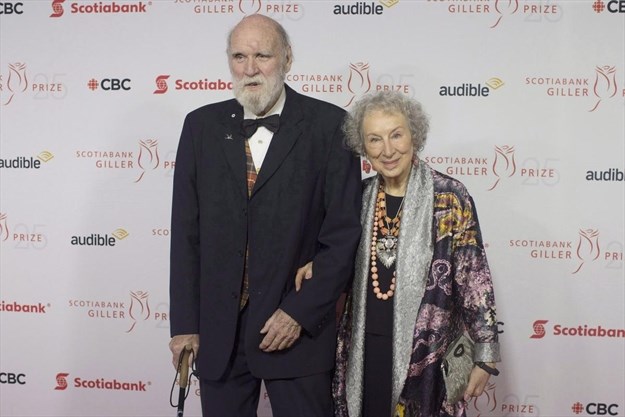 The author and poet Graeme Gibson has passed away at the age of 85 in London where he was accompanying his long term partner Margaret Attwood on a promotional tour for her book, The Testament. Gibson was diagnosed with dementia in 2017.
Born in 1934 in Canada, Gibson was a writer and poet in his own right. He published a total of seven books during his career, but gave up writing in 1996 to concentrate on other things. He was heavily involved in conservation, holding positions as both a council member of the Canadian World Wildlife Fund and chairman of the Bird Observatory of Pelee island
During his lifetime, Gibson won a number of awards including the Toronto Arts Award and the Harbourfront Prize. He was also an Order of Canada member.
Even when he had given up writing, he still remained an important figure in the Canadian literary scene, where he helped support a number of up and coming writers.
Gibson is survived by his partner, the author Margaret Atwood. The two had been together since 1973 and had one child, a daughter, together. There are also two children from his previous marriage.
Turkish Tower to Wear Blue Tie in Poetic Inspiration
A large blue tie will be seen adorning the Galata tower, the famous Istanbul landmark, from 19th September to 22nd. The tie will form part of a campaign that is being run in the country to raise awareness for prostate cancer.
The idea to use a blue tie was inspired by Bedri Rahmi Eyuboglu's "The Saga of Istanbul". Eyuboglu was a famous painter and poet in Turkey who lived from 1911 to 1975.
People are being invited to share pictures of the tie-wearing tower on social media with one of two hashtags to help raise awareness. The first 300 people to do so will be gifted a blue tie.
The campaign is being run by the Turkish Society of Medical Oncology.