Today our poetry news round up takes a look at the Google Doodle that celebrates the life of Mascha Kaléko the German Jewish language poet.
Google Doodle Celebrates Jewish German Language Poet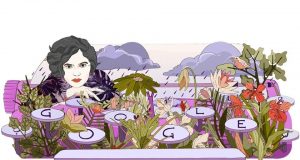 The Google Doodle yesterday was a celebration of the German Jewish poet Mascha Kaléko. The poet rose to prominence in Berlin in the early 1930s.
The choice of date 16th September is significant for Kaléko as it marks the final in-person reading by the poet which took place at the America Memorial Library in Berlin.
Kaléko was born 7th June 1907 in Schidlow, Galacia; an area that is now part of Southern Poland. She was named Golda Malka Aufen.
Her family fled to Germany before the start of World War I and settled in Berlin in 1918. She emigrated to the United States in 1938 living in various different cities including New York and California. She moved to Jerusalem, Israel in 1959.
Kaléko began writing poetry as a teenager, it wasn't long before she was considered something of a local celebrity in Berlin. Her early work was published in several newspapers. By the early 1930s she was a well-established literary figure amongst the literary greats of Berlin.
She was often to be found in the bohemian hub Romanische Café with other notable literary contemporaries Erich Kastner and Else Lasker-Schuler.
Kaléko was named as the winner of the Fontane Prize for Literature in 1960, however, because Hans Egon Holthusen a former Nazi and member of the Waffen-SS was a member of the jury she declined.
Her first book of poetry was published in 1933 and it was followed just two years later with a second book. Some of her poetry was also published in 1977 posthumously.
There have been many attempts to translate some of her poetry into English but it wasn't until 2010 when some poems were fully translated into English and appeared in "No Matter Where I Travel, I Come To Nowhereland – The Poetry of Mascha Kaléko, translated by Andreas Nolte". In the book was a selection of poems, each from a different point in the poet's life. Each one was translated to follow the original German as closely as possible, the original rhythm, rhyme and style of the poetry in the translation is as close as possible to the original.
The poet was married twice, first in 1928 to a Hebrew teacher from whom she was divorced and then in 1938 to a musical theorist and director with whom she had a son.
Kaléko died in 1975 in Zurich, she had been on a final visit to Berlin and was returning to Jerusalem when she fell ill. She was 67.
She is buried in one of two Jewish cemeteries in Zurich that was built by the Jewish Synagogue in the area.
In Berlin, there is a memorial plaque on the residence where she once lived, and a park and street have both been named in her honour.