In todays poetry round-up we bring you the poet who wrote to Dame Vera Lynn, Googles doodle in honour of the Egyptian poet Farouk Shousha, and the winner of the 2018 William Meredith Award for Poetry.
Wolverhampton Poet Gets Letter from Dame Vera Lynn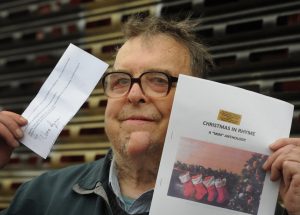 Reg Summerfield, a poet based in Wolverhampton has received the seal of approval from Dame Vera Lynn – The Forces Sweetheart –  for a collection of four poems that he recently penned.
Mr Summerfield, who is 79, wrote a special tribute to Dame Vera in the form of four poems as a tribute to mark her 100th birthday which she celebrated last year. In the festive spirit he sent them to the singer. Shortly before Christmas the poet received a letter in reply in which the singer thanked him for his "very clever mini anthology".
The poet, who began composing poems at the age of 19, wrote his first poem about Aston Villa FC winning the FA Cup, over the years he has written many poems, most of which have been about politicians and celebrities.
Google Honours Egyptian Poet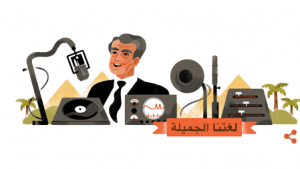 Last week we reported that Google had changed its image a couple of times to honour, yesterday they added another one to the collection. The poet in question is Farouk Shousha, an Egyptian poet who was born in 1936.
Shousha was also a television host, and from 1977 to 2006 he worked on "Umsiya Thaqafiya", as a poet he was one of the most renowned and contemporary writers in the Arab world. During his lifetime the poet published 13 anthologies and is perhaps best known for Lughatuna Al-Jamila (meaning Our Beautiful Language). In 2016 he was awarded the Nile Prize for Literature.
The Google doodle which captures the poet with the pyramids in the background and radio and television equipment in the foreground was published across the middle eastern region for what would have been his 82nd birthday. Shousha passed away in October 2016.
2018 Winner of the William Meredith Award for Poetry
The winner of this year's William Meredith Poetry award has been announced. James Beall, who is a physicist and professor at St. John's College, Annapolis as well as a poet has been awarded the prize for Onyn Moon, his most recent poetry collection.
The award which is given in honour of the former



was announced on 9th January, on what would have been Meredith's 99th birthday; it is also 11 years since his death in 2007.
This is a rather unusual award, there is no application process and therefore no shortlist to be whittled down to find a winner, it is instead awarded on an unsolicited basis in the same spirit of generosity that was a big part of how Meredith lived his life.
Onyn Moon is the third book published by the poet who published his first poetry collection, Hickey, the Days in 1981. This was followed by Republic his second book in 2010. One theme that can be seen throughout much of the poet's work is that of the natural world; wind, rain, jungles, volcanoes, each painted with precision and attention to detail as you might expect from a physicist.