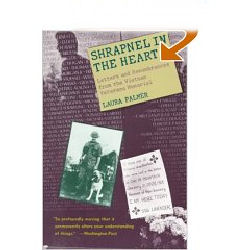 What is the responsibility of the poet to truth? That may seem an odd question, but it's one that poets sometimes struggle with, especially when they write poetry using the "I" voice. A story reported by Diantha Parker on NPR today brings up the question in a rather haunting way.
In 1993, Vice President Al Gore read a poem by a woman named Dana Shuster at the dedication of the Vietnam Women's War Memorial. The poem, Hello David, was read by Laura Palmer, author of Shrapnel in the Heart, on NPR"s morning radio show when the book was published. The poem is simple – a few heartfelt lines that begin, "Hello, David. My name is Dusty. I'll be your night nurse." Says Palmer in a recent interview with NPR, "Her poetry helped people appreciate the sacrifice that women made in Vietnam." The daughter of a man killed in Vietnam, Karen Spears Zachariah, says that:


On the front page of the Vietnam Women"s Memorial Foundation, the bright red letters of the word Bulletin call attention to the legend, War Poet Dusty not a veteran. War poet Dusty, aka Dana Shuster, had been interviewed for Moran's book as a war nurse who served two tours of duty in Vietnam. The book "Visions of War, Dreams of Peace", a collection of poetry by women Vietnam veterans, contained a full dozen poems written by either Dusty or Dana Shuster. "What do you pack/to take to a war?" Shuster asks in the opening poem of the book. Other poems detail the emotional havoc of holding the hands of dying soldiers, of being entrusted to pass last messages, of being over and over and over, in Shuster's words, "The last person who will love you."
But over the years since the dedication of the Women's Veteran's Memorial, people were asking questions. No one could remember serving with Dusty, and eventually, author Palmer received a call asking if she was sure that Shuster had actually ever been to Vietnam. Pressed, Shuster admitted to Palmer that she had no way to corroborate her stories. For whatever reasons she might have, it appears that poet Dana Shuster invented her years of service, imagined and gave voice to a war nurse named Dusty who wrote poems about something the poet never experienced.
There is certainly a betrayal here – but the betrayal is not in the writing of the poems. The use of a poetic voice is a long-standing tradition, one of the tools of poetry used by most poets at one time or another. The betrayal is in assuming that persona as truth, as a part of the poet's own history, as if the words don't have emotional truth behind them. Shuster's poems ring with that emotional truth, despite the fact that she never lived the life from which they were born.
Poets are not journalists. We are not bound to relate events as truthfully as possible. Rather, we are encouraged to take "poetic license" with facts to make them more real, more emotional, more telling. In this case, though, the poet took on the persona of her poems, and the end result is hurt and betrayal. One has to wonder if the poems would have been any less effective had Shuster presented them simply as a heartfelt tribute to women who served side by side with men in Vietnam.
On a side note, if you want to spend half an hour in tears, visit the Vietnam Women's Memorial Foundation web site and read the poems of tribute there.