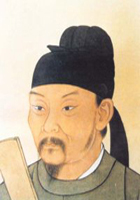 Spring is here. Although the calendar has announced the beginning of spring, some of us question whether or not it's really here. Snow is on the mountains and, in some places, still in the valleys. But as we watch the birds begin their annual migration, we also see little signs that change is in the air. Buds on the trees are starting to open and little tufts of new green are appearing from the soil. For many, spring is one of the most enjoyable times of the year, when the dreary days of winter give way to warmer temps and the foreshadowing of the summer days to come.
All of these observations and many more have been the subject of countless poems. Regardless of culture or geographical location, the concept of spring is found expressed by poets young and old.
Having lived in the English countryside for several years, I can appreciate the perspective that many European poets of offered. Although much of the landscape of the British Isles is green throughout the year, the lushness of the vegetation increases dramatically as the weather warms, and bright, colorful flowers begin to bloom. All manner of animal life begin to appear, many with new young that have been born in the last days of winter. One English poet who captures this annual experience is John Clare. Born in 1793 to a farm laborer, Clare was recognized early on for his poems regarding the joys of life in the English countryside; he also lamented the disruption of the same. He was born and raised just outside of the cathedral city of Peterborough, located in present day Cambridgeshire. His reflections on spring life in that particular location is especially meaningful to me, as I, too, lived just outside of Peterborough in the village of Yaxley. I can attest, personally, to the accuracy of Clare's descriptions.
Young Lambs
by John Clare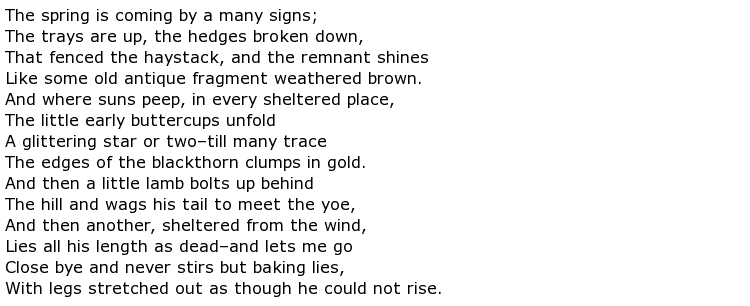 Another excellent poet who captures the meaning of spring time is the eminent Li Po. Sometimes known as Li Bai, he was a major poet during the Tang Dynasty. The Tang Dynasty in itself is often called the Golden Era of Chinese Poetry. We are fortunate enough to have over one thousand of Li Po's poems to view — it is likely that he wrote many more, but that they have been lost over the years for any number of reasons. His poems have been translated into many languages, and they have had a long lasting impact on classical Japanese poetry. His spring-theme poems are full of descriptive language which, even when translated into English, does not lose their significance.
Waking from Drunkenness on a Spring Day
by Li Po

A contemporary of Li Po is Tu Fu (Du Fu). Raised in Henan province, Tu Fu had a rather typical upbringing, although his mother passed away when he was quite young and so he was raised by an aunt. Some time during the spring of 744, he met Li Po and developed a limited friendship with the elder poet. Without doubt, that relationship served as a motivation for Tu Fu to continue his pursuit of poetry.
A Spring View
by Tu Fu
Spring is, for most, a joyful experience each year. It would appear that this sentiment is shared with many, as reflected in the wide range of poems regarding the subject of spring.