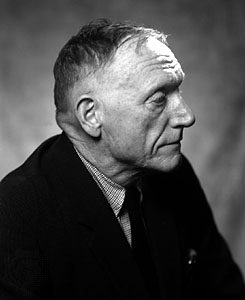 Robert Penn Warren was a triple Pulitzer Prize-winning writer.  Over a thirty-year period he won one for a novel called All the King's Men (in 1947) and two for his poetry (1958 and 1979).  This feat has never been repeated.  Additionally he was a much-respected literary critic who became one of the founding members of a movement in the middle of the 20th century called New Criticism.
He was born on the 24th April 1905 in the Kentucky town of Guthrie which is close to the border with Tennessee.  He was named after his father Robert Warren and he also took his mother's maiden name (Penn).  He received a good education beginning at Clarksville High School and continuing at Vanderbilt University (summa cum laude, Phi Beta Kappa) from which he graduated in 1925.  He then achieved an MA at the University of California, Berkeley the following year.  He was not done there though, studying at Yale University and then New College, Oxford where he gained a Bachelor of Letters degree (B.Litt.).  His European travels then took in a spell in Italy during the 1930s, his studies there being aided by the award of a Guggenheim Fellowship.
His interest in becoming a poet was sparked at Vanderbilt when he joined a group known as the Fugitives.  Later he became one of the founding members of the Southern Agrarians literary group of Southern writers which included the likes of Allen Tate and John Crowe Ransom.  Warren was very much against racial segregation which was not an attitude shared by all of his contemporaries.  He spent a lot of time with civil rights leaders such as Martin Luther King and, in 1965, he published a collection of interviews under the title Who Speaks for the Negro?
As a poet Warren is a little difficult to categorise.  For example, there are poems that glorify the soaring hawks and the majestic landscapes across which they fly (Evening Hawk).  But then he will write about the rotting corpse of a horse (Dead Horse in a Field) which also features the flight of birds of prey, only this time in their role of feasting on carrion.  And then there is a fairly obscure piece called A Way to Love God which compares the moving, but unspeaking, lips of Mary, Queen of Scots immediately after her beheading with the unmoving lips of sheep standing in a field, staring blankly ahead.  Here are the concluding verses of this strange poem: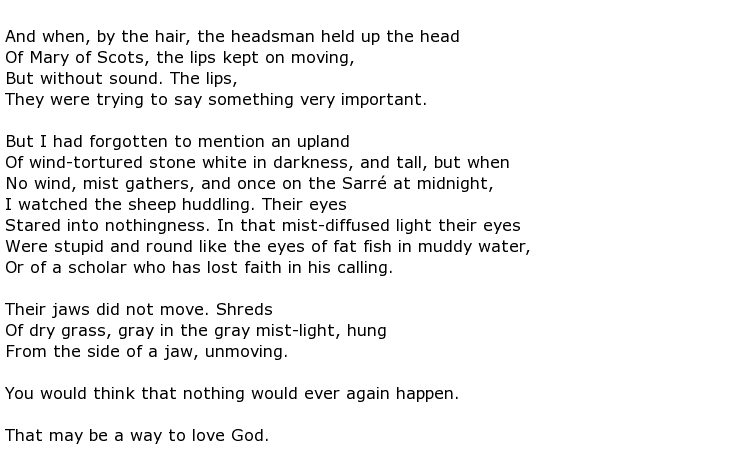 Warren displayed the breadth of his talent when writing the novel All The King's Men which not only won the Pulitzer Prize in 1947 but was also adapted for an Academy Award winning film, winning the Best Picture prize in 1949.  He also served as his country's Poet Laureate between 1944 and 1945 although, at that time, the office was called Consultant in Poetry to the Library of Congress.  His poetry output was considerable and two of his collections won Pulitzers.  The first was in 1958 and called Promises: Poems 1954–1956.  He then repeated the feat in 1979 with Now and Then.
Warren was married twice, his second wife bearing him two children.  His final days were spent living in Stratton, Vermont and it was here that he developed bone cancer.  The complications arising from this illness killed him.
Robert Penn Warren died on the 15th September 1989 at the age of 84.