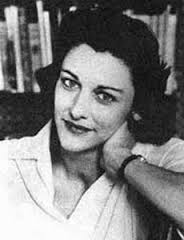 The Massachusetts born poet, Anne Sexton, could best be described as a tortured soul who wrote in a highly controversial style.  Her poems contained topics that, for the majority of people, were not seen as 'right and proper' in 1960s America.  A so-called confessional poet, Sexton wrote quite openly and unashamedly about taboo subjects like menstruation, abortion, masturbation, incest, adultery, and drug addiction.  Maybe her motivation was to deliberately shock and outrage people, or perhaps these outpourings were just symptoms of her troubled mind.
Sexton was born in November 1928 and spent most of her childhood years in Boston. At the age of 20 she married Alfred Muller Sexton II and, despite all of her troubles, she raised two children during her 25 years of marriage.  Indeed, she introduced the subject of her husband and children into a lot of her work, often in fairly intimate detail.  She had long running battles with depression and often suffered from suicidal tendencies.  Despite all this though she won the Pulitzer Prize for poetry in 1967 for her book Live or Die.
In truth she divided opinion amongst art and literature critics with some describing her work as preening, lazy and flip. Others saw her style maturing over the years;  she was praised for railing against conventional attitudes to religion, politics and sex.  She did not actually take up serious writing until she had suffered at least two serious episodes of manic depression (in 1954 and 1955).  Encouraged by her therapist – Doctor Martin Orne – she attended poetry workshops and quickly received acclaim for her work from such respected quarters as The New Yorker and Harper's Magazine.
Her extraordinary talent for writing poetry led her to study at Boston University where her contemporaries numbered such distinguished poets as Sylvia Plath and George Starbuck.  Later she collaborated with Maxine Kumin, another writer, with whom she wrote four children's books.  This was quite a departure from her intense, adult-themed style of poetry.
As the 1960s progressed though her mental illness issues affected her writing more and more yet she still continued to publish new work.  With readings of poetry and even dabbling in jazz-rock music she was determined to go on but the pressures on her were mounting and her demons were never too far away.  Incredibly though, despite frequent bouts of depression and a heavy drinking habit, her name featured strongly among the bright lights of American literature.
Eventually it all became too much for her and following a lunchtime meeting with her friend Maxine Kumin in October 1974 she went home and committed suicide in her garage. With the car engine running she was overcome by the fumes and died of carbon monoxide poisoning.  Friends and family would probably have seen this tragic end coming.  Reading some of her final works such as those in An Awful Rowing Toward God and The Death Notebooks they would not have failed to note her inexorable slide towards her imminent demise.
One of the poems in that first mentioned collection – The Rowing Endeth – contains these lines:

Her rowboat is the passing of her life, rowing inexorably towards death;  towards the "dock of an island called God".  The theme of death runs strongly throughout these two pieces of work.  Here is confirmation of Anne Sexton's travels on the road to self-destruction so there was no surprise when her life ended at only 46 years old.