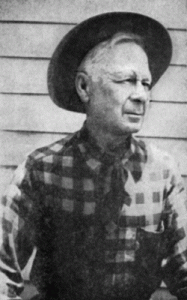 I live in cowboy country. Cowboy poets are a 'dime-a-dozen' here, but none of them comes even close to the wonderful writings of Bruce Kiskaddon. During the early part of the 1900s, a popular theme for television, movies and books was the American cowboy. During the time of this 'cowboy fantasy', a real cowboy turned Los Angeles bellhop was busy writing poetry about his experiences on the open range. But his poems were not quite what that popular culture audience was looking for. Instead, Kiskaddon wrote about both the momentous and the mundane aspects of life as a cattle rancher and of the animals they worked with. Unlike the cowboy heroes seen on the 'silver screen', his poems were unromantic and tended to demystify the whole cowboy experience.
A Good Cowboy
by Bruce Kiskaddon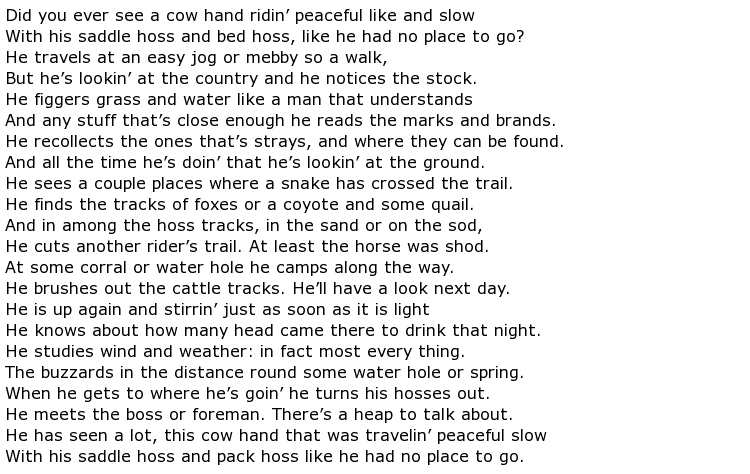 Unlike most of those cowboys seen on television or written about in countless volumes of Zane Grey and other well known writings of the time, Kiskaddon actually experienced life on the open range. Few other poets have had these same experiences , the closest being Andy Adams who was a true participant of the big trail drives which were common before the open ranges were fenced in.
Introduction
by Bruce Kiskaddon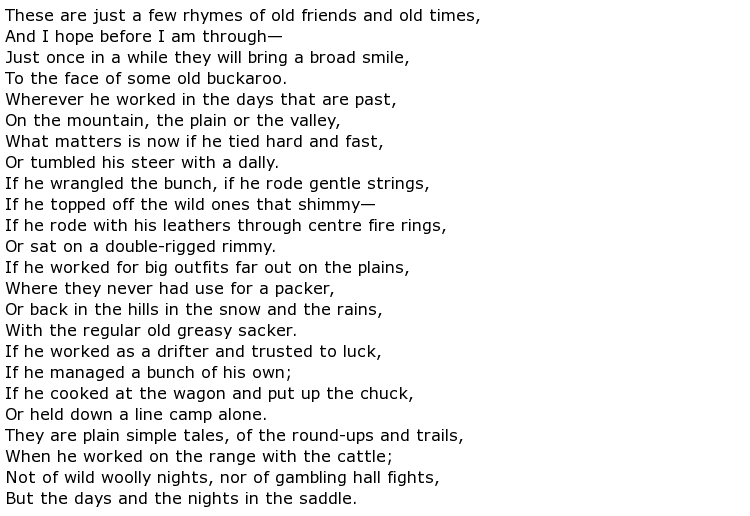 He was born and raised in Pennsylvania in the late 1800s, and later relocated to the southwestern part of the United States. He worked in Colorado until World War I began. He joined up with the U.S. Army in served in France throughout the war. After the war, Kiskaddon found himself in Australia, working as a jackaroo ( an inexperienced ranch hand). He returned to the United States and found work as a ranch hand for the prominent cattle man Tap Duncan. During his employment with Duncan, Kiskaddon revealed his skills at writing song lyrics and poems. Duncan encouraged the young cowhand to continue penning his poems and perhaps have them published some day. His poetry was appreciated by his fellow ranch workers and gained notable popularity with the public in general. He published his first collection of poems a few years later in 1924.
Drinkin' Water
by Bruce Kiskaddon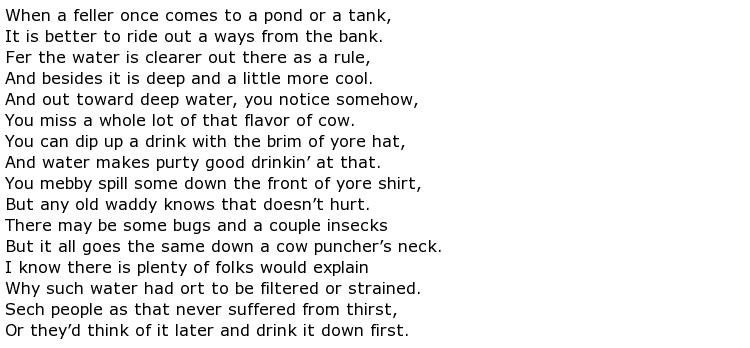 A couple of years after that, Kiskaddon decided to try his hand at the movie industry, so he moved to Hollywood in hopes of becoming a movie star. After all, he was a real cowboy, so he would certainly be able to play the role of a cowboy in front of the movie camera. Most of his time was spent, not on the sound stage, but at a Hollywood hotel where he worked as a bellhop. In between assisting hotel guests and the occasional call to read for a movie scripts, Kiskaddon sat and wrote poetry, pulling from his memories of life on the open range, nights in the range camp, working with horses, and riding the wide open lands of the U.S. Southwest. Through a fortunate arrangement with an editor, Kiskaddon published a book of his poems that was illustrated by Katie Field. Field's father was well known in the Southwest (especially in New Mexico) and operated a large ranch near Socorro. Having lived most of her life on a ranch, she was intimately familiar with ranch scenes and could produce exquisite sketches of those memories. Her and Kiskaddon quickly became a successful team, having many other works published over the years.