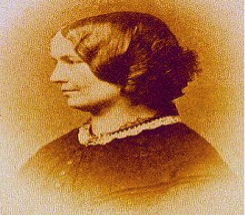 Charlotte Brontë, one of the greatest English writers of the Victorian period, was described uncharitably as 'a little, plain, provincial, sickly-looking old maid, which was not strictly true. Whilst her health undoubtedly suffered in adulthood she conformed to the fashionable attractiveness of the era and, far from being an old maid, did marry.
She is known best for writing novels, most notably Jane Eyre, but managed to produce a few poems prior to concentrating on novels. This was at the time when reading audiences were turning away from poetry in preference for more convoluted prose. Brontë's poems were generally conventional rhyme, dealing with the themes of the day such as love, life in an easy to read narrative style. Here is an example in her poem Life:

One of six children she was born in 1816 in Thornton, Yorkshire, England. Her mother Maria Branwell died when Charlotte was very young, forcing Charlotte into a surrogate mother role for her younger siblings. Her father Patrick Brontë, an Irish clergyman, was appointed to a clerical post at St Michael's and All Saints Church in Haworth, so the family moved there, to what is now famously known as the Brontë Parsonage, a well-visited tourist attraction.
Along with two of her sisters Charlotte was sent to the Clergy Daughters' School in Cowan Bridge, Lancashire. However, two of her sisters died from Tuberculosis and this was largely attributed to poor, unsanitary conditions at the school. So the girls were brought back home to Yorkshire where, at the age of nine, Charlotte, with her siblings Branwell, Emily and Anne occupied themselves by writing stories of imaginary worlds.
Charlotte continued her education at a local school until the age of sixteen and later returned to teach at the same school for three years up to 1838, following which she became a governess for several families. From 1842 she lived in Brussels for a very short time, when she taught English at a boarding school. She returned to England upon learning of the death of her Aunt Elizabeth who had helped to look after the children when Maria Brontë died. Charlotte returned to Brussels a second time and taught for a further year but, homesick and unhappy she returned to England for good. It is known that she used her experiences of this time in her novels The Professor and Villette.
Her first published work was a self-funded collaboration with sisters Emily and Anne – a book of poems under the nom-de-plumes of Currer, Ellis and Acton Bell. Unfortunately only two copies were sold but it taught Charlotte a valuable lesson in the prevailing attitudes of Victorian England. The pen names were used deliberately to hide the fact that the poems were written by women. Charlotte explained this decision thus:

Sure enough, when her novel Jane Eyre appeared, under the name of Currer Bell, in 1847, the work was well-received but people speculated on the author's identity. As people began to suspect that the writer was a woman, attitudes changed and her work was described as 'coarse'. However, this criticism failed to dampen sales and the novel went on to great success and is considered a classic today.
She began work on her second novel, Shirley, in 1848 but was then rocked by family bereavement, losing a brother and two sisters and she was unable to write for two years. However her novel, depicting women's role in society and industrial unrest, was published successfully in 1849.
In 1854 Charlotte married Arthur Bell Nicholls and quickly became pregnant. Unfortunately she became ill with what we now know as hyperemesis gravidarium, or severe morning sickness. She and her unborn child died on March 31st 1855. She was 38.