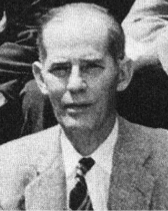 Donald Davidson was an American poet, teacher and literary critic with a strong social conscience. He was one of the founding members of a group called The Fugitives. They were scholars at the Vanderbilt University in Nashville, Tennessee who wrote poems and essays on social themes such as black segregation in the south and their name was taken from the title of a magazine that they published within the university. Davidson was also a member of a sister organisation called the Southern Agrarians, also based at Vanderbilt, who stood up for the right to continue an agrarian and deeply religious way of life in the southern states that was under attack from those who wished to sweep away the old ways.
He was born Donald Grady Davidson on the 8th August 1893 in Campbellsville, a small town in Giles County, Tennessee. His parents were both teachers and Donald received the best education possible with his early years being spent at a preparatory school in Spring Hill, Tennessee. His education was interrupted by service with the US Army during the First World War but he returned to his studies afterwards, earning both a BA and an MA at Vanderbilt. He married at the end of the war, his wife being an artist and legal scholar.
Davidson began his literary critic activities with the Fugitives. All of the members read and offered critiques on each other's work and members included future well-known poets such as Allen Tate and Robert Penn Warren. Davidson probably made his first mark on American poetry with a dramatic monologue called Lee in the Mountains but much of his early efforts involved reviewing the work of others. For example, between 1923 and 1930 he reviewed at least 370 books and was the editor of the book page in a newspaper called the Nashville Tennessean, his work here being much respected and syndicated to other papers.
His association with the Southern Agrarians began when the group devised their manifesto, named I"ll Take My Stand. Davidson and his fellow members were very much against the creeping industrialisation of the land, and the destruction of an old and much love way of life in the south. Paradoxically, they overlooked the worst excesses of rural life (slavery, for example, seems to have been ignored), favouring a romantic, idealised view of a life that their fellow Americans should fight to preserve.
Davidson's most read piece of work is a two-volume history of where he grew up. He called the books The Tennessee (1946 and 1948) and Rivers of America. Particularly in the second volume you will find open and savage attacks on government land grabs for huge dam-building projects, with the subsequent effects felt by the displaced farming communities.
Besides his literary and social activities, Davidson was a school teacher and he retired from this profession in 1964. An anthology of his poetry was published two years later called Poems: 1922-61. There had been at least four collections of his poetry published, beginning with An Outland Piper in 1924 and ending in The Long Street in 1961. His work covered a myriad of different subjects, reflecting his interesting life. Here is an example, a curiosity called Censored: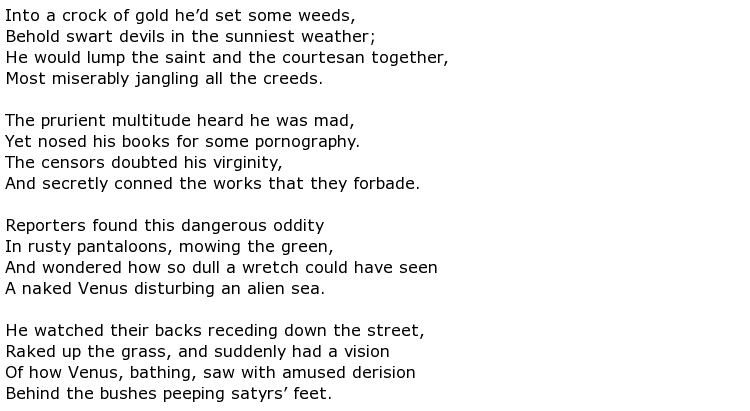 Donald Davidson died in Nashville, Tennessee on the 25th April 1968, aged 74.