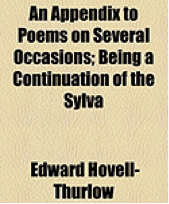 Edward Hovell-Thurlow was an English poet who inherited the title of the second Baron Thurlow on the passing of his unmarried uncle. As well as writing his own poetry he also acted as an editor for other poets, in particular the Elizabethan-era writer Sir Philip Sidney. He also filled a number of interesting sounding official posts including Patentee of Commissions in Bankruptcy, to which he was appointed in 1803 and Clerk of the Hanaper which came along in 1821.
He was born Edward Thurlow on the 10th June 1781 in the central London area known as Temple into very comfortable circumstances. His father was titled Bishop of Durham while his mother Anne was the daughter of Chancellor Thurlow, a lord, who was also the 1st Baron Thurlow. He was sent to be educated at the prestigious Charterhouse School, going on to Oxford"s Magdalen College. He matriculated from Oxford at the age of 17 and gained his Masters' degree on the 16th July 1801.
His future was assured when, on the death of his uncle in 1806, he inherited the baronetcy of Thurlow but he did not take up his seat in the House of Lords for another four years. In July 1814 he further extended the length of his name and title by adding the name Hovell to his own, this being in commemoration of an ancestor on his grandmother's side. Richard Hovell was an



to King Henry V and Thurlow applied for a royal licence to use the name.
Hovell-Thurlow's output as a writer was not especially large but he was a follower of the poet and soldier Sir Philip Sidney who had written a critique on poetry in 1579 called



Thurlow took this volume and edited it, along with some of the original sonnets. It was only meant for private circulation but later passed into the public domain. Sidney's work was reprinted under the title



in 1812 and then enlarged in 1813 with the slightly amended title



Here is a poem that Thurlow wrote about the man who had been mortally wounded at the Battle of Zutphen in 1536. It is called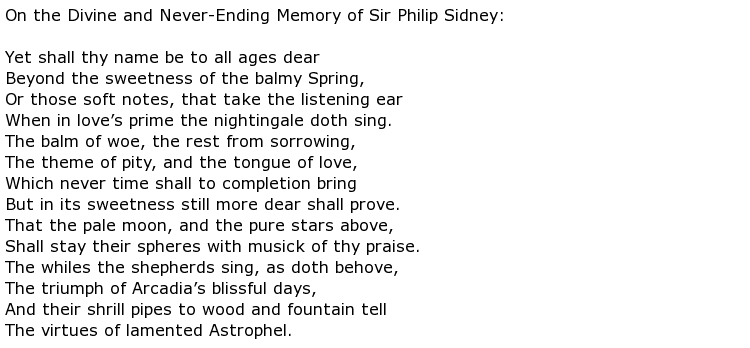 Other work known to have been produced by Hovell-Thurlow include



both of which were published in London in 1814. A collection under the title Select Poems was privately printed in 1821 and he wrote a tribute to Shakespeare in 1822 called



This was a continuation of the story told in The Tempest.
Additionally, he was a regular contributor to the Gentleman"s Magazine. On one occasion he was criticised for "his affectation" by the poet Thomas Moore when, in 1814, he wrote



parodied by Lord Byron. He found the time to write in between the responsibilities of his numerous official posts, all of which he retained until his death.
Edward Hovell-Thurlow died in Brighton on the 4th June 1829, six days before what would have been his 48th birthday.