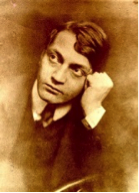 Endre Ady, whose name was sometimes anglicised to Andrew Ady, was a Hungarian poet and journalist. He always tried to break away from the traditional, folksy style adopted by 19th century Hungarian poets and, indeed, he became known as the first of the modern poets in his country.
He came into the world on the 22nd November 1877 in a village called Érmindszent, Szilágy County, which is now part of Romania. Although his family background was noble they were, by the time of his birth, impoverished. It was a religious household, following the Calvinist faith and Endre was educated at the Calvinist College in Zalau. He had a talent for poetry and, at the age of 19, he had his first poem published in the Szilágy newspaper in the same town.
Although he went on to study law at the Reformed College in Debrecen he seemed to have no intention of entering that profession. Instead he went into journalism while continuing to write poetry. His first collection, simply called Versek (Poems) was published in 1899. He soon found that the town of Debrecen was stifling his literary ambitions and he moved to Nagyvárad which was known as a place with a rich cultural heritage. He again found work on a newspaper, this time the Nagyváradi Napló, and he began to enjoy life, being a keen observer of the town and its people, many of which were very poor.
Another collection of his work came out in 1903 but he was still striving for recognition as a serious poet. He had a lucky break when he met a rich woman who was visiting her home in Nagyvárad but who currently lived in Paris. She was called Adél Brüll and he became besotted with her, despite the fact that she was married. They embarked on an affair and she inspired him in his writing. He referred to her in some of his poems, changing her name to Léda. He was clearly inspired by his surroundings and here is one of his poems, called Autumn Passed Through Paris: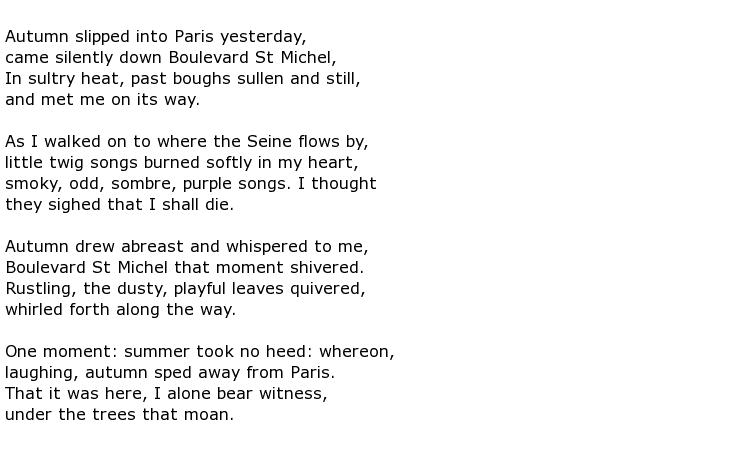 Over a period of seven years he often visited her in Paris and she became an important figure in his development as a writer. He felt that he needed a bigger stage to work on, once more, and moved to Budapest in 1904 to work for another newspaper, the Budapesti Napló (Budapest Journal). He found here an outlet for his work and he wrote hundreds of articles for the paper, and a number of poems.
The political map of Europe was starting to undergo changes with the onset of the First World War and Ady took up membership of a radical group called Huszadik Század (Twentieth Century). His literary life was really beginning to have an impact by now and, in 1906, his third collection, Új versek (New Poems), has been described as being responsible for the birth of modern Hungarian poetry. He followed this with Vér és arany (Blood and Gold), and this fourth collection established his name as a great writer.
He continued to visit Paris whenever he could and, in 1907, he left Budapest, returning once more to Nagyvárad. He became one of the founding members of a literary group called A Holnap (Tomorrow). This led to his becoming unsettled with the company of fellow poets who, he felt, were using his fame and success to further their own.
By the year 1909 his health was very poor and much of this was due to the disease syphilis. Over the next five years the political situation in his country rapidly destabilised and he feared for the future, while others were enthusiastic about the onset of war. There is no record of Ady carrying out military service, probably because he was too ill to do so. He was almost at the end when his last poem was published in 1918 under the title Üdvözlet a győzőnek (Greetings to the victorious). In recognition of his work he was elected president of the Vörösmarty Academy, a group set up to celebrate modern writing. He was too ill though to deliver his opening speech to the organisation.
Endre Ady died on the 27th January 1919 in Budapest at the age of 41. The syphilis had done irreparable damage to his heart and it is believed that he died of a massive haemorrhage.