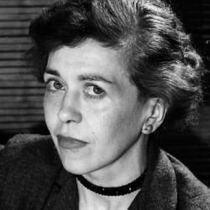 Jean Garrigue was the pseudonym used by a 20th century American poet who won honours and awards for her writing including the Guggenheim Fellowship in 1961.  Besides her writing she was a newspaper editor and lecturer in English Literature at a number of colleges across the United States, serving as poet in residence at some of these establishments.
She was born Gertrude Louise Garrigus on the 8th December 1912 in Evansville, Indiana.  As she grew up in a quiet Midwestern town she had dreams of being someone in arts and literature and these ambitions increased when she moved away from Indianapolis and went to study at Chicago University, and then a period of post-graduate study at Iowa University.  Following this she went to live in New York City and began associating with literary society there.  She changed her name to Jean Garrigue at this time before moving once more, settling in New England.
She was inspired by her surroundings there to write prolifically, her first book being published in 1947 under the title



Seeking even more inspiration she made three trips to Europe in the 1950s and 1960s, each time staying for around two years.  She deliberately avoided the stereotype of the "typical American woman" who finds a husband and settles down to raise a family.  Her goal was to live life to the full, seeking new experiences every day.  She had close relationships with members of both sexes in the literary world, including Stanley Kunitz and Josephine Herbst, the latter being an intimate but troubled affair that lasted for many years.
As well as publishing her own work she worked as a newspaper editor during the late 1930s and taught English at many locations including Iowa, New York, Massachusetts and California.  Poetry was her first love though and she was a powerful presence amongst American writers of the time, her work being praised by critics and readers alike.  She wrote with an intensity that often bordered on the obsessive, making acute observations of life and the people she made contact with.
A good example of her work was the poem



which offers the clear message that we should all live life to the full, accepting whatever it throws at you and always seeking to discover what may be hidden below the surface.  As she says in the last line,


The poem is reproduced here: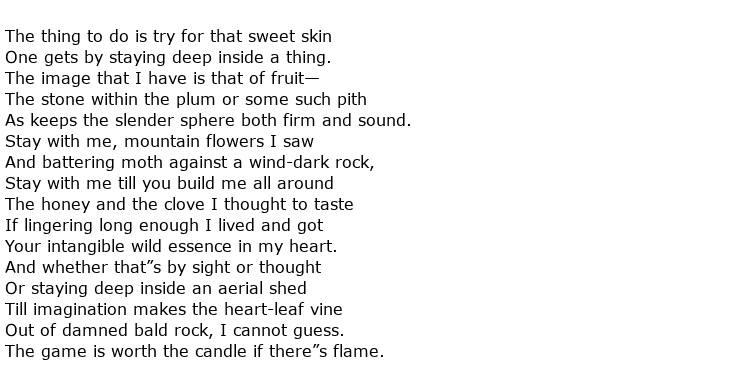 One curiosity about her work is that, following her death in 1972, her name seemed to disappear from lists of significant American poets of the 20th century.  Some have suggested that she just wasn't "fashionable" any more and no one wanted her brand of intensity and disturbing imagery.  She had been a star amongst her contemporaries but the reading public somehow just found her too difficult to fathom.  She was certainly an individual, defying any "pigeon-holing" as regards traditional or historical schools of poetry, and it therefore followed that her work didn't fit with any of the popular anthologies.
Interest in Garrigue's work reignited during the 80s and 90s but it was a brief resurgence.  A collection called Selected Poems in 1992 brought her to the fore once more but it was only temporary.  Even the feminist literary community seemed to have trouble in identifying with her.  No one can doubt though that she was an interesting character in her own right, fearless and uncompromising for the whole of her life which was cut short when Hodgkin's disease was diagnosed in 1971.  She hung on to life for another year though.
Jean Garrigue died in Boston, Massachusetts on the 27th December 1972 at the age of 60.