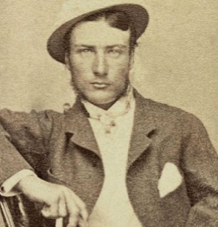 Marcus Clarke was an English-born, Australian poet, novelist and playwright who also got involved in magazine editing and ownership.
He was born Marcus Andrew Hislop Clarke on the 24th April 1846 in the Kensington district of west London.  His father was a barrister and he had an uncle who was the Governor of Western Australia, a fact that, no doubt, encouraged him to emigrate.  During his teens Marcus lost his father who had suffered a mental breakdown three years earlier.  He was educated at the Cholmeley Grammar School in Highgate and a fellow pupil there was the future poet and priest Gerard Manley Hopkins.  He should have won a poetry prize in his senior year but this honour was withheld for disciplinary reasons.
At the age of 17 the young man decided to emigrate and he landed in Victoria, taking up initial employment with the Bank of Australia.  This did not work out and he tried farming instead.  He had a talent for writing though and the Australian Magazine published some of his early work.  The Melbourne newspaper The Argus then took him on to their staff and he became interested in the long-running process of convicts arriving on Australian shores to serve in penal colonies.  He wrote a series of articles called Old Stories Retold for publication in The Australasian following a visit to some of these colonies in Tasmania.  These were developed into a book which was serialised in the same publication before being published in 1874, in book form, under the title For the Term of His Natural Life.
This story was often told from a sympathetic point of view, reflecting the fact that many of those involved had been transported unfairly, having been falsely convicted of crimes that they did not commit.  He also highlighted the harsh conditions under which they lived in the colonies.  This became Clarke's best known piece of work but he did produce a number of poems and short stories, as well as writing light comedies and pantomimes for the stage.
One of his best poems was An Australian Paean: 1876 which is a celebration of all the natural wonders to be found in both his native British Isles and his new homeland of Australia.  He clearly remembered the glories of spring times back home and compared them to an Australian April from the point of view that this was the month that



The opening three verses of this joyful poem, along with the last verse, are reproduced below: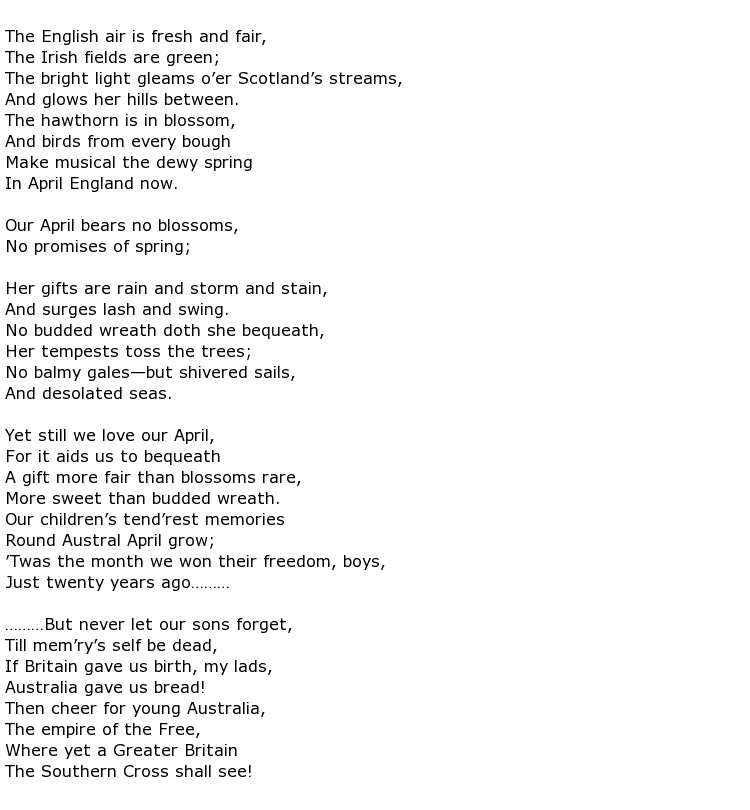 Clarke was certainly well regarded in Australian bohemian literary circles and contemporaries included writers such as George Gordon McCrae and Victor Daley.  Despite his prolific output he failed to manage his finances well and was constantly struggling, occasionally getting into pecuniary difficulties.  He had married an actress called Marian Dunn in 1869 and she bore him six children who would suffer the loss of their father at far too young an age.
Marcus Clarke died in Melbourne on the 2nd August 1881 at the age of 35.