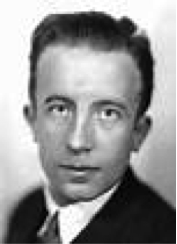 Paul Éluard was a prolific writer of poetry with his first published collections appearing when he was 22 years old followed by more than seventy others.  Having seen life in the trenches during the First World War he was no stranger to misery and suffering and he maintained a strong desire to change the world for the better. He was hampered by poor health, no doubt exacerbated by his time in the trenches, although it had started before then.  At 16 years of age, he was sent to a sanatorium in Switzerland where he spent 18 months recuperating.
His birth name was Eugène Grindel and he was born on the edge of Paris in December 1895.  His early school days showed much promise but stuttered somewhat when he was sent to the École Primaire Supérieure Colbert, in the centre of Paris.  Perhaps his illnesses were holding him back and he was withdrawn from there in 1911 to start his rehabilitation in the sanatorium in Davos.
He enlisted into the Army not long after returning to Paris but did not stay long in uniform, being discharged suffering from gangrene of the bronchi. Yet another period of rest and recuperation allowed Éluard  to develop his growing interest in poetry, with plenty of time available to read the works of famous French poets such as Arthur Rimbaud and the American Walt Whitman.  He eventually felt strong enough to set down a number of poems of his own and he published two collections;  Le Devoir et l'Inquiétude (1917) was followed by Poèmes pour la Paix  a year later.
The floodgates were now open and he associated with other young poets in Paris such as André Breton and Philippe Soupault.  At first this young group of writers keenly participated in the Dadaist movement, moving on from there into Surrealism.  Not surprisingly Éluard also numbered among his artistic circle of friends painters with similar views, such as Picasso and Dali.
A typical example of his surrealist poetry would probably be The World is Blue as an Orange and it is reproduced below: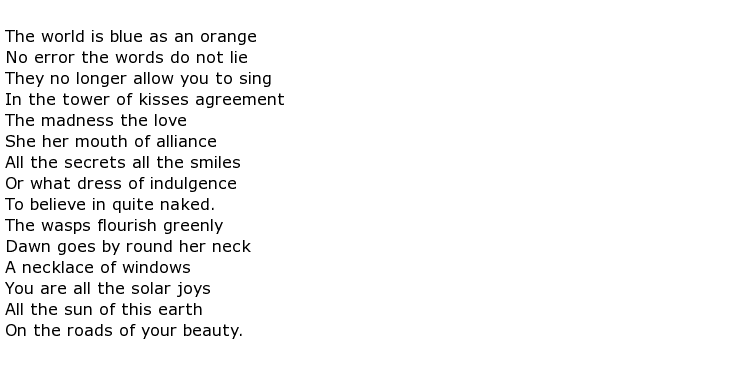 In the 1920s he decided to spread his wings by visiting countries right across the world, gathering artistic influences and new experiences in Panama, India, New Zealand and many places in between.  He actually set out on this Grand Tour in 1924 without telling anyone and it was feared that he was dead.  He returned to Paris in triumph though, picking up his reputation where he had left it, and this proved to be a happy period in Éluard's life.
The outbreak of the Second World War saw the poet working against the Germans in the Resistance.  He wrote a lot of anti-German material and had to be constantly on the move to avoid arrest.  He even hid in an asylum for the insane at one point and was greatly moved by the suffering that he saw there.   In 1942 he became a member of the French underground communist party and this inspired a more political direction in his writings.  An example was Poèmes Politiques which was published in 1948.  In the remaining years of his life he travelled a great deal to such places as Poland, Bulgaria, Albania and the Soviet Union, in his new role of ambassador of the new poetry.
His earlier illnesses caught up him with though and Paul Éluard died in 1952, aged only 56.