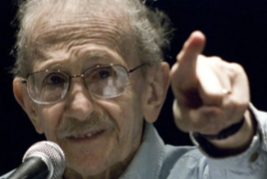 Philip Levine was a prize-winning American writer and university lecturer who rose from a working class background in Detroit to become one of his country's greatest poets.  Among many honours and awards came the ultimate prize, when he was into his eighties.  In 2011 he was appointed Poet Laureate of the United States, a post which he filled for two years.
He was born on the 10th January 1928 in the industrial city of Detroit, his parents both Jewish immigrants.  His father, who worked in the motor parts trade, died when Philip was only five years old and the boy had to cope with an element of anti-Semitism as he grew up.  He had a disruptive education where he had to work in a car factory at the age of 14 before going back to school, and then on to Detroit's Wayne University.  He was writing poetry by then and he gained a Bachelors' degree in 1950 but, for some reason, he decided to go back to working in a car factory doing, what he called, "stupid jobs".
His up and down life took another turn when he married in 1951 but this lasted only two years.  He then decided to go back to his studies and, at the University of Iowa, he had poets such as John Berryman and Robert Lowell as fellow students. He worked on his thesis towards a Masters' degree, succeeding in 1954 when he submitted his work on John Keats' Ode to Indolence.  Perhaps in celebration he then married for a second time.
The next stage in his life was teaching technical writing at the University of Iowa and, in 1957, he won the Jones Fellowship in Poetry at Stanford University.  The following year he obtained a teaching post at California State University, Fresno and he taught English there up to 1992, the year of his retirement.  He taught at a number of other establishments besides including Princeton, Vanderbilt and Berkeley universities.
Despite Levine's many years in academic circles he never forgot his Detroit roots and often wrote about the social and economic problems of that region and its people.  Many of the characters that he described in his poetry and prose were based on real ones, though some were fictionalised, but the body of his work left a great legacy for the American people.  Through reading his sometimes sceptical words it was possible to get a real and vibrant grasp on the life of mid-twentieth century American workers in general, and Jewish immigrant workers in particular.
In his poem called You Can Have It the author sees his brother climb the stairs to his room after a gruelling day at work before collapsing, perhaps physically defeated, onto his bed.  The brother clearly has no love for his daily labours and the physical and mental scars that he bears because of it.  Here are the opening lines that illustrate clearly what a hard life it was for workers in industrial cities like Detroit: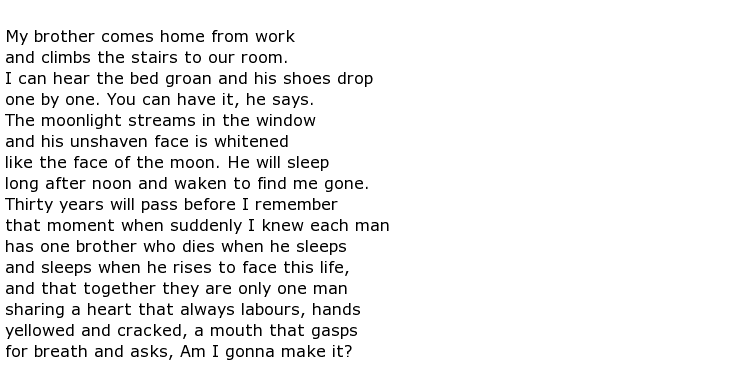 Levine's first collection of poetry came out in 1963 with the title On the Edge and he followed this in 1968 with Not This Pig.  In the same year he joined fellow writers in pledging not to pay their taxes as a protest against the war in Vietnam.  He produced a number of other collections of poetry up to the year 2009 and also a few works of translation.  He was the recipient of many awards for his work including the 1995 Pulitzer Prize for Poetry which was awarded for The Simple Truth.
Philip Levine died of pancreatic cancer on the 14th February 2015 at the age of 87.