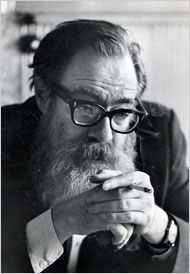 Born in 1914 in Oklahoma, American poet John Berryman is most well remembered for Dream Songs, a combination of two previous books comprising 365 poems that he felt should be read as one work. Although born in Oklahoma, his parents moved to Florida but tragedy struck early on when Berryman was just 12 years old – his father committed suicide, an incident that would affect him throughout his life.
His mother remarried and they moved to New York but the young Berryman was sent away to boarding school in Connecticut. His interest in poetry came when he went to Columbia and studied with Mark Van Doren, the Pulitzer Prize winning poet and scholar who has been credited with inspiring other writers such as Ginsberg and Kerouac.
He contributed to the poetry collection Five Young American Poets in 1940 and his first book came out in 1942, simply titled Poems. Influenced by Yeats, it wasn't until six years later that he produced a more mature collection in The Dispossessed, although it attracted some rather negative reviews. His first book to receive national attention and acclaim appeared in 1956 when Homage to Mistress Bradstreet was published. The title poem explored the life of the 17th century poet and Berryman's fantasies about her.

In 1964, 77 Dream Songs set Berryman up as one of the most important poets of the post war generation. A year later it won him the Pulitzer Prize and he began to get more national exposure, even being invited to dine at the White House with Lyndon B Johnson. Berryman carried on the theme of dream songs to write another collection called His Toy, His Dream, His Rest. The two would later be combined to make one book simply called Dream Songs.
These poems gave rise to what was called the confessional movement, the verses being influenced by things that happened in his personal life. The movement explored individual experience from a starkly personal point of view, including taboo areas such as mental illness, suicide, and sexuality. His poems were intended to both terrify and comfort, but were not there to be understood. They covered areas such as his travels to Ireland, his growing fame, past love affairs and the death of some of his literary peers.

His final two collections of poetry were Love & Fame and Delusions, Etc., neither of which went on to have the impact of his Dream Songs volumes. Berryman married three times and lived what was perceived to be a turbulent life. He was admitted to hospital on a number of occasions with alcohol related illnesses and fought a constant battle with depression. He did discover God late on but it didn't seem to make his life any easier.
In 1972, he walked onto the Washington Avenue Bridge in Minnesota and jumped off into the Mississippi, killing himself. He was laid to rest at Resurrection Cemetery in Dakota County.