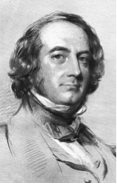 Richard Monckton Milnes, also known as the 1st Baron Houghton, was an English poet and a Fellow of the Royal Society. He also spent time in politics and was a well-known patron of English literature, encouraging many new writers to take up the pen.
He was born on the 19th June 1809 in London, the son of a Yorkshire Member of Parliament. His mother had nobility in her family tree, being the daughter of the 4th Viscount Galway. Following a private education, Robert went to Trinity College, Cambridge in 1827 where, four years later, he achieved a Masters' degree. While at Cambridge he was a member of the "Apostles Club", a society of literary minded students including the likes of Alfred Lord Tennyson.
Following his graduation, and like so many young men of the 19th century who were fortunate enough to have the means to do so, Milnes took himself off on a Grand Tour of Europe which included Greece, Italy and Germany, pausing for a while to study at the University of Bonn. On his return he set down his experiences in a book called Memorials of a Tour in some Parts of Greece.
His political career began in 1837 with election as a Member of Parliament in the seat of Pontefract, following in his father's footsteps to some degree. He did not always see eye to eye with fellow members over controversial issues of the day such as the Corn Laws and he resigned from his party because of this. He was aware of the great unrest occurring in France and experienced the revolution at first hand when he visited there in 1848. His even-handed nature ensured that he made a point of seeing the conflict from both sides.
Prime Minister Palmerston recognised his efforts in the 1863 honours list and Milnes became Baron Houghton, of Great Houghton, a small town which now lies in South Yorkshire but was part of the West Riding of the County of York at the time. He was known as a great liberal thinking peer, always turning a sympathetic ear towards social injustices and industrial monopolies.
As a writer, Milnes produced a great deal of material in verse, often of a religious nature. He was interested in the philosophy known as Tractarianism and wrote articles on it, often attracting praise from the likes of John Henry Newman, one of the prominent followers of this movement. Harking back to his days of European travel, he produced four volumes of poetry between the years 1838 and 1844. The first was called Memorials of Residence upon the Continent. He followed this with Poems of Many Years, Poetry for the People and finally Palm Leaves. He wrote a great number of ballads which proved very popular in 19th century England.
Here is an example of his poetry and was presumably written shortly after returning home from his travels. It is called Impression on Returning to England: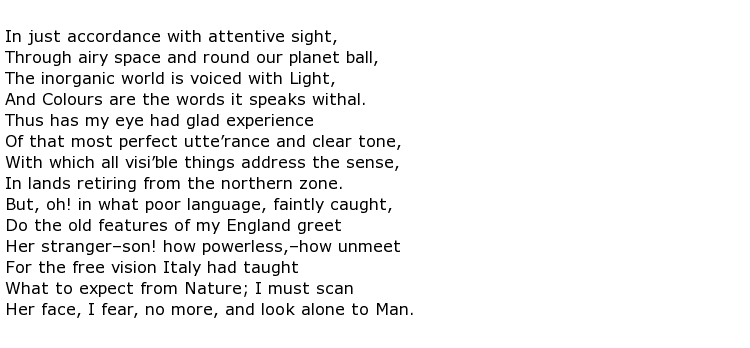 He was, though, even better known for his patronage and encouragement of other poets. For example, he ensured that the American Ralph Waldo Emerson became well known in Britain. He enabled Tennyson to secure a pension and exposed new poets like Algernon Charles Swinburne to literary society. Another writer, Coventry Patmore, was assisted with obtaining a post at the British museum.
An interesting fact about this well respected man was that he managed to acquire a considerable collection of pornographic material, unknown to many of his friends and family at the time. It has even been said that he may have written a famous poem about flagellation called The Rodiad. He pursued that well known icon of the Crimean war, Florence Nightingale, for some time before realising that she would never marry him (perhaps she knew about his shady collection!). He did, however, marry the daughter of the 2nd Baron of Crewe.
Richard Monckton Milnes, the Lord Houghton, died on the 11th August in France aged 76.