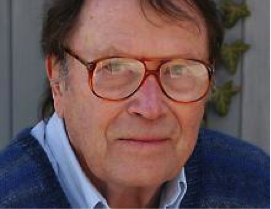 Richard Wilbur has had a long and interesting writing and teaching career which actually began when he had his first poem published in a magazine in 1929, when only 8 years old. Since then he has published a good number of collections of poetry for which he has won countless honours and awards. He also became only the second United States Poet Laureate when appointed in 1987 and he held that position for two years. Add to all this a long teaching career in schools and colleges (he was still teaching on his 90th birthday in fact!), a few song writing credits and the translation of a number of French comedies and dramas into English.
He was born Richard Purdy Wilbur on the 1st March, 1921 in New York City. He grew up in North Caldwell, New Jersey and attended High School until he was 17. He spent time there writing for the school newspaper and went on to Amherst College for four years where he married a student at a neighbouring college. Shortly after he enlisted into the United States Army and served during the last three years of WWII. Following his brief Army career Wilbur spent a short period at Harvard before embarking on his long teaching career including spells at the Wesleyan University and Smith College. In recent years he has been teaching at his old college at Amherst.
The year 1947 saw his first published collection of poems called The Beautiful Changes and Other Poems, and several collections have been published since then.   Critics have usually given Wilbur good reviews and there have been comparisons with the styles of Robert Frost and W H Auden where his poems draw on and highlight everyday experiences as their main themes. Here are a couple of verses from the title poem of his first collection: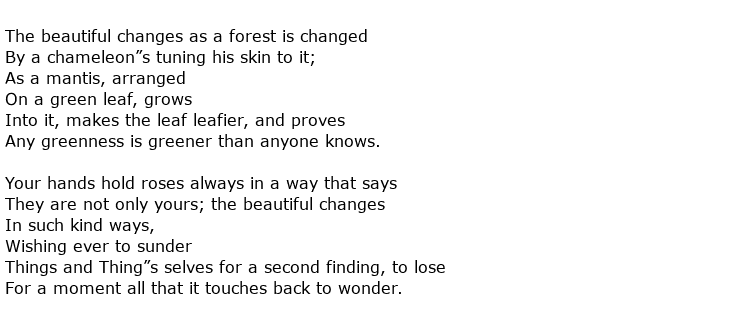 In 1956 the famous composer Leonard Bernstein invited him to write some lyrics for his forthcoming musical Candide. Wilbur provided the lyrics to the songs Glitter and Be Gay and Make Our Garden Grow. Three years later he received the honour of being elected as a Fellow of the American Academy of Arts and Sciences but this was only one of many honours that this poet has gathered in a long literary career. Notable among his enviable collection are two Pulitzer prizes for poetry; firstly in 1957 for Things of This World and then again in 1989 for his collection New and Collected Poems.
Wilbur has also had a great deal of success translating Molière's 17th century comedies into English along with dramatic pieces by Jean Racine. His work was of such high quality that the translation of Tartuffe was recognised as the standard version and has been used in two television broadcasts of this play in English.
Perhaps the collection of poems that will become known as his definitive collection came out in 2004 and he called it simply Collected Poems. This book covers some sixty years of his poetry. He has been widely respected as a poet throughout his life and one critic described him as:



Another attributes Wilbur with:



It is clear then that the poetry of the multi-award winning Richard Wilbur has made a significant mark on American literature and his work will be appreciated for a long time to come.