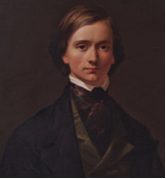 Thomas Buchanan Read was a 19th century poet and prose writer who also had a remarkable talent for portrait painting. The image above was a self-portrait. He was a very popular writer during his lifetime with his work often hitting just the right note to stimulate feelings of great patriotism amongst American readers.
He was born on the 12th March 1822 in a small town called Corner Ketch which lies within Chester County, Pennsylvania. His family circumstances were quite modest and he was only able to enjoy an elementary education. He had a natural talent though as a painter and employed this skill as a sign writer before taking up an apprenticeship with an artist who taught him to sculpt.
He had moved to Cincinnati to live with his sister and he soon had a stroke of luck. His work had come to the notice of millionaire Nicholas Longworth who became his patron, and this allowed Read to establish his own studio. At the age of 18 he presented a portrait of Whig presidential candidate William Henry Harrison which gained national attention and kick-started his artistic career. At the same time he had a number of poems published in the Cincinnati Chronicle and Times.
The following year he moved to Boston and was soon a member of a literary and artistic circle including Henry Wadsworth Longfellow and painter Washington Allston. Read admired the patriotic content in the work of both these men and set out to emulate them in his own. This busy writer and artist somehow found the time for romance and he was married in 1843 to a woman from Ohio. They had three children.
Over the next two decades he spent a great deal of time in Italy, especially in Florence, and his reputation grew worldwide. He received many commissions to paint famous people and his collection of portraits included the likes of Robert Browning, Abraham Lincoln and Alfred, Lord Tennyson.
Despite his many years living away he never forgot his Pennsylvania homeland and, while in Florence, he produced a series of 37 textual illuminations called A New Pastoral. This was a lyrical description, written in blank verse, of the countryside of his youth. In it, he said that



He wanted to create



An example of Read's acute observation of country life can, perhaps, be seen in the poem The Angler and it is reproduced here: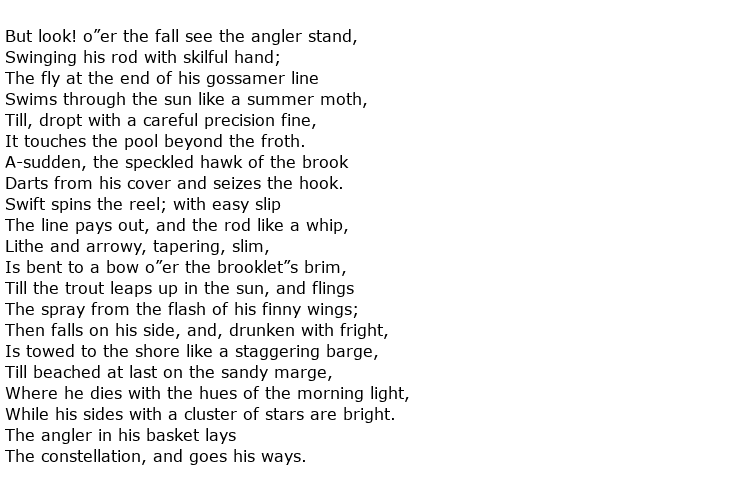 His time in Italy was blighted by the loss of his wife and two of his children to cholera and he was back in the United States by 1861, enlisting in the army as the Civil War began. From his time in uniform came one of his most famous pieces of work, Sheridan's Ride, a heroic piece describing the arrival in battle from some twenty miles away of the general who would save the day for the Unionist forces.
Read married again and, in 1867, they moved to Italy and spent the next four years re-establishing his reputation as a great artist and writer. Unfortunately he was involved in a carriage accident and his injuries were so severe that he never properly recovered. Perhaps sensing that his days were numbered he returned to the United States in 1872 but soon contracted a fatal dose of pneumonia.
Thomas Buchanan Read died on May 11th 1872, aged 50.