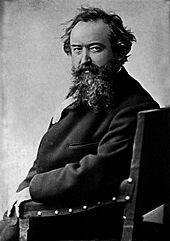 Born in 1832 Wiedenszahl, Wihelm Busch was a multifaceted writer and artist, widely known at the time for his comic stories and humorous verses which took a satirical swipe at the narrow minded lives of Germany's city dwellers. He was brought up in a large family with stern parents who had an ethic of hard work to go alongside their strongly Protestant background.
As a child, Busch was a tall, slender individual, known for his sensitivity, a world away from some of the harsh satirical portraits he would paint in later years. He was educated by his uncle Georg Kleine, a clergyman who tutored the young writer in a wide range of subjects. In 1847, Busch moved to Hanover where he took on a course in mechanical engineering before being attracted to more artistic pursuits before the end of his studies.
Despite the reservations of his father, Busch joined the art academy in Dusseldorf and in 1852 headed for Antwerp where he studied under the venerable Josephus Laurentius Dyckmans. Falling ill with typhus, however, brought his studying to an end and he went back to his home town of Wiedenszahl. After he had recovered, he went to Munich to study at the Academy of Fine Arts but did not find the courses to his liking and left.
At this time, his career seemed to lose impetus and by 1857 he had no clear prospects for the future. During this period he wrote a number of unsuccessful works including an opera and a play. By 1860 he was beginning to publish articles and illustrated tales before completing the manuscript for one of his most successful works Max and Moritz. Although initial sales were slow, over the ensuing years its popularity spread and it went through no fewer than 58 reprints.

Busch was now more affluent and moved to Frankfurt where Johanna Kessler became his mentor and convinced him that he could also be serious painter. He set up a studio with her help where he was, for a while, at his most productive. During the 1870s, a number of his poetic works challenged the state of religion at the time, including Saint Antonia of Padua and, one of his most well-known works, Adventures of a Bachelor.
Although he was more successful, Busch was cultivating an increasing dependence on alcohol, something that had caused him some noticeable embarrassments during his youth. Throughout his life he failed to find a long term love and had several failed relationships including an aborted attempt to marry writer Marie Anderson.

In his later years, Busch moved in with his sister's family even though he had more than enough money to get a place of his own. Instead, he restored the house and became something of a recluse. He stopped painting in his 60s and moved finally with his sister to Mechtshausen where he wrote a number of poems.
In 1908, he came down with a sore throat and was subsequently diagnosed with a heart condition. A few days later Busch died at the age of 75.