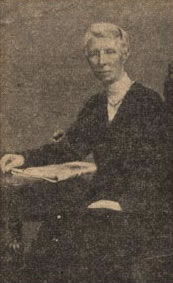 Born of Scottish parents in New Zealand, Jessie Mackay became the first native born New Zealand poet to achieve national prominence. Her empathy and relationship to those who had lost their lands made her voice one that spoke for all the peoples of New Zealand, bringing her popularity even at a young age.
Jessie Mackay was born in 1864 at Rakaia Gorge. She was schooled at home, but went to Christchurch at the age of fourteen to attend Christchurch Training College. She taught at Kakahu Bush School from 1887 to 1890, but was forced to leave the position because of illness. Over the next fifteen years, she returned again and again to teaching, taking positions at Ashwick Flat and Inveresk School. Eventually, ill health forced her to give up teaching, and she turned her attention to her other love – journalism and writing.
Mackay wrote a biweekly column for the Otago Witness beginning in 1898, and she continued to write for the Witness for the next 30 years. Her first book of poetry had been published in 1889, when Mackay was only twenty five years old. In the preface to that book she wrote that she hoped for "a dawning of the national spirit" in New Zealand, a hope that was to color all of her work throughout her life. Her second volume of poetry, The Sitter on the Rail was published in 1891, and contained satirical and humorous poetry with a decidedly political slant.
Mackay openly espoused political causes, including feminism and the rights of indigenous peoples. Her 1908 book, From the Maori Sea and its immediate successor, Land of the Morning, are generally believed to contain her very best work. In 1917, she took a house with her sister Georgina where she remained for the rest of her life. Her nationalist spirit and her fierce dedication to the causes that she held important in her life fueled her writing, and in 1926, she published the book Bride of the Rivers, another book of verse, and another in 1935, Vigils.
Mackay is more widely known now as a pioneering spirit, a humanitarian who lived the life in which she believed. Her poetry is often seen as containing archaic constructs, and her ballads often revolve around strong feminine heroines. Jessie Mackay died at Christchurch in 1938, and the PEN society established the Jessie Mackay Memorial Award for Verse in her name.