What"s a lost book of poems worth these days? If it"s your own poetry, the answer is probably "priceless", even if it wouldn"t fetch a dime at auction.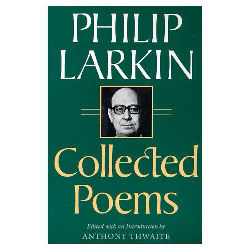 The poems in this notebook were penned by the famed British poet Philip Larkin, though, and it"s expected to fetch $20,000 when the bookseller to whom it belongs puts it up for sale this week.
According to the story, the notebook was one that Larkin kept on a bedside table back in 1976 when he was beginning an affair with his secretary Betty MacKereth. The notebook slid behind the table and hid there for over 25 years. It was found by a junk dealer, who sold it to an antique book dealer, who is putting it up for sale today.
Larkin published seven books of poetry during his life, and was offered the post of Poet Laureate after the death of John Betjeman, but declined the honor. Three of his poems are on the list of Britain"s "Nation"s Top 100 Poems" as voted by television viewers, and his work has been widely anthologized. In 1995, ten years after his death, The Philip Larkin Society was formed to read, discuss and preserve his work.
Interestingly, Larkin was a firm believer that a poet"s private letters and writings should be in the public trust, and to prove his own belief, he donated his own first notebook to the British Library in the 1960s. While the current owner of this notebook states that "there are no other Larkin manuscripts on the market or likely to come on the market", this isn"t the first time this year that there"s been a discovery of Larkin"s poetry. In February, a tape of Larkin reading 25 of his own poems was found in the attic of one of his friends, John Weeks, a former BBC sound engineer.
The full stories:
Telegraph | News | Larkin"s lost notebook of love poems to go on sale for $20,000
12 February 2006: Unknown Larkin tapes found in attic