Today in our poetry news round-up we look at the previously unpublished letters between Philip Larkin and his muse Monica Jones.
The Unseen Letters That Show the Tortured Love of Larkin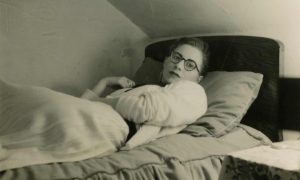 A cache containing a staggering 2,400 unpublished letters sent by the poet Philip Larkin to Monica Jones his muse and long-time lover shows the flawed and rather explosive romance that they had.
Larkin was regularly unfaithful to Jones who said:



So much so that following his death she turned his home into a shrine.
This significant quantity of letters, which have never before been published however show the full extent of the feelings, fears, fury and frustration that she felt during their partnership which lasted four decades.
In the letters Jones talks about being thought of as a SITUATION, that she believed Larkin wanted to fix, she speaks of being afraid and alone. Her words are heart-wrenching, the letters fill 54 boxes which she left to Oxfords Bodleian Library. She gave strict instructions that the boxes were to remain shit until decades has passed following her death. She died at the age of 78 in 2001.
Now unrestricted access to the letters has been granted to Professor John Sutherland who was a close friend of Jones and is a leading scholar on Larkin.
Both Larkin and Jones were born in 1922 and both of them studied at Oxford although this is not where they met. In 1946 they first met at University College Leicester, Larkin had just taken a position in the library and Jones was a lecturer in English. Larkin moved in 1950 to Queens University Belfast and the University of Hull in 1955. The two met up frequently during this time and their turbulent relationship, which was marred by the fact that they both drank heavily lasted until 1985 when Larkin died.
It was well documented that Larkin was a serial cheater, regularly seeing other women whilst he was still with Jones, to the point of seeing one whilst visiting his mother and then returning home to the other. Jones was fully aware of this but proclaimed her love for the poet in her letters, saying that she was blessed he was in her life.
Sutherland said:



The letters read as an almost literary stream of thoughts, with times when Jones goes off completely at a tangent, berating Larkin in one paragraph for his other women before then reminding him to do something mundane like water the flowers.
It is however clear that despite his behaviour Larkin obviously did care for Jones, The Less Deceived, his breakthrough collection was dedicated to her and it was Jones who received the majority of his estate when he died.
The letters stop early in the 1970s when both parties got phones.