One of the things that many of our past poets laureate have shared – not only among themselves but with the poets laureate of numerous states, cities and other nations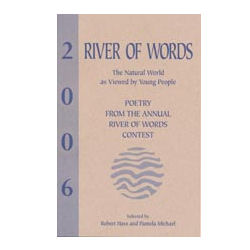 – is an abiding passion for opening the world of poetry to children. Billy Collins created Poetry 180 to share a new poem every day of the school year with schoolchildren. In Chicago, the transit authority is putting poetry by schoolchildren on the busses. In Virginia, the Poet Laureate does workshops on poetry and art in the schools. Children and poetry belong together – but far too often, their early efforts are discouraged by pedantic lessons about rhyme and meter.
River of Words was founded by Robert Hass, United States Poet Laureate 1995-97. Every year since 1996, River of Words has held their River of Words poetry and arts contest. The program was created to encourage children to write about nature and the natural world. Each year, the judges read thousands of entries from students in grades K through 12 to choose winners in four different categories of poetry. In addition to four grand prize winners, one in each of four age categories, Hass and his cohorts choose about fifty poems for special mention and inclusion in an annual anthology of children"s poetry. The recently released River of Words Anthology includes poems by the winners of the 2006 contest as well as artwork by children who participated in the River of Words art contest.
River of Words also offers a full curriculum for teachers to help them introduce poetry and nature into their lessons. For more information and to read the winning poems for 2006 and other years, visit the River of Words web site.
From the web site:
River of Words has, from the beginning, received a lot of media attention. Editors and the public are eager to hear positive stories about today"s children, and ROW"s wonderful art and poetry is irresistible. ROW has been profiled on television on PBS"s "Green Means" series and also on radio on NPR"s "Living on Earth," as well as on Voice of America and many radio and TV stations around the country. ROW artwork has graced the covers and pages of magazines, annual reports, textbooks and many other publications. ROW children"s poetry has been included in anthologies like Elizabeth Roberts and Elias Amidon"s Prayers for a Thousand Years (HarperSanFrancisco, 1999) and in literary journals like The Potomac Review. Composer Steven Axelrod has even set several ROW poems to music to create a grand choral work, entitled (what else?) "River of Words."