Don"t be fooled into thinking that just because this book is aimed at elementary school students, it has nothing to teach adults.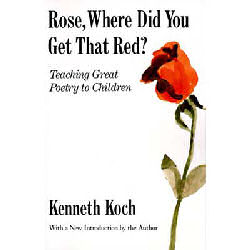 Kenneth Koch"s Rose, Where Did You Get That Red? has been around long enough to be called a "vintage" book, but the lessons it teaches are still fresh and bright.
Originally published in 1972, the book is a collection of methods, exercises and ways of making great poetry accessible to children. It"s based on the belief of the author, a well-known poet and teacher, that children should not be taught poetry through the mediocre poetry often found in elementary school textbooks. Instead, he experimented with teaching fifth and sixth graders about poetry through the works of classic and classical poets – Donne, Shakespeare, William Carlos Williams – and then wrote his methods and theories into a book that is stuffed with examples of poetry written by the children inspired by those poets.

He goes on to explain how he chose the poems and poets that he introduced to the ten and twelve year olds in his classes. He details exercises that he used – many of them just as useful for adults.
In fact, Koch"s methods of opening poetry to children work for adults as well. This is still a book worth reading, even for those who will never read a poem to a child, even for those who will never stand in front of a classroom, even for those who believe that they well understand the poets that Koch taught to his classes. Seeing them again through different eyes, and recognizing that – until they are taught differently – all children are naturally poets – is a lesson well worth learning… and when you can find it on Amazon.com for as little as 96 cents, it"s a lesson that won"t cost you much at all.